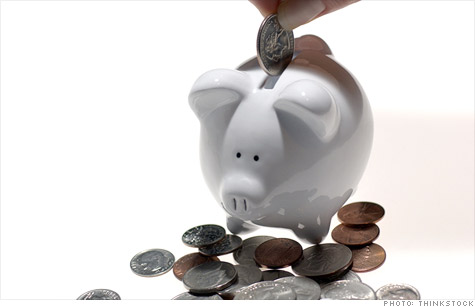 In 2012, aim to save more, but don't rule out borrowing or applying for rewards cards.
(MONEY Magazine) -- Let's face it: 2011 was pretty abysmal when it came to savings rates, and 2012 won't be much brighter.
The average savings account barely pays 0.2%, while money-market funds haven't surpassed 0.02% since March. With the Federal Reserve promising to sit on short-term interest rates until at least 2013, don't expect any help from Uncle Sam when it comes to saving.
That means in the coming year, it will be up to you to eke out what little you can in savings rates -- and to preserve those yields from rising bank fees.
While households in general have become smarter about managing their debt --the average card balance dropped by $500 to about $7,000 in 2011 -- "savings don't look particularly healthy," says Richard Barrington of MoneyRates.com. The personal savings rate isn't near its 2007 lows, but it dipped to 3.6% in September. And the pattern of recent months suggests it will continue in that direction next year.
The action plan -- Save wisely, borrow judiciously, and take what the market is giving you
Search for yield. Online banks, with less overhead, are a great place to start. Savings accounts at American Express (AXP, Fortune 500) or Discover Bank (DFS, Fortune 500) yield 1% -- no great shakes but five times the national average.
Also, check out high-yielding checking options at a local bank, where you can often find rates above 2%. There are trade-offs, though. For instance, to get that rate, you may have to commit to making at least 10 debit card transactions a month and sign up for direct deposit.
Search for the best rates where you live at money-rates.com/rewardschecking.htm. Call the bank about terms and qualifications that may apply. Also, visit bankrate.com to make sure the banks you're considering earn at least three stars for safety.
Don't rule out borrowing. "Expect to see aggressive offers from banks, whether it's for a mortgage or a credit card," says Sherief Meleis, a partner at Novantas. In November, for example, the average home-equity loan was charging 6.98%, and credit card APRs went as low as 7%. Be advised, though: Lending standards aren't loosening.
Apply for a rewards card. Your excellent credit score qualifies you for the crème-de-la-crème of offers. Sign-up bonuses are up 25% -- and are expected to stay that way for the coming year, according to NerdWallet.com, which tracks credit card offers.
Don't wait too long to apply; with debit card reform passed, legislators are likely to turn to credit cards next. And who knows how that will affect your perks.