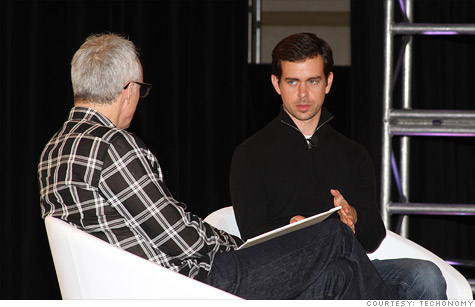 Running both Twitter and Square is a round-the-clock job, so Jack Dorsey has developed a ruthless time-management scheme.
TUCSON (CNNMoney) -- Twitter co-founder Jack Dorsey is trying to pull off an almost unprecedented trick: He's simultaneously guiding two of the tech industry's fastest-growing companies.
Turns out he's got a minute-by-minute plan for making it all work.
"The only way to do this is to be very disciplined. I theme my days," Dorsey said during a talk Sunday at the Techonomy conference in Tucson.
He meant it literally. Each day, he focuses on one specific aspect of corporate development and tunes out the rest.
Here's a rundown on the weekly calendar Dorsey keeps as CEO of payments platform Square and chairman of Twitter.
Monday: Management meetings and "running the company" work
Tuesday: Product development
Wednesday: Marketing, communications and growth
Thursday: Developers and partnerships
Friday: The company and its culture
Weekends are a bit slower: Saturdays are for hiking and Sundays are for "reflection, feedback and strategy," Dorsey said. But from Monday to Friday, he clocks in eight hours at Twitter and then walks two blocks over to put in another eight hours at Square.
"There's interruptions all the time, but I can quickly deal with an interruption and know 'it's Tuesday, I have product meetings, I have to focus on product stuff,'" he said. "It sets a good cadence for the company."
Dorsey's 16-hour-days are a result of an unlikely serial-entrepreneurship collision.
The original designer of Twitter's microblogging service, he co-founded the company in 2006 but was later forced out in a management clash. During his exile, he launched a new venture: Square, a small business-focused mobile payments service. But when Twitter came calling earlier this year in the midst of another executive shakeup, Dorsey returned -- while Twitter's other co-founders headed for the exits.
Dorsey opted to keep his job at Square, but he's also going full steam at Twitter: He's been leading a product-development overhaul that sent dozens of Twitter's earliest employees out the door.
Executive departures have become almost a daily occurrence. In the past week alone, Twitter communications head Sean Garrett, consumer marketing leader Pam Kramer and media partnerships executive Robin Sloan have all resigned.
In his Techonomy talk, Dorsey steered clear of any discussion about Twitter's ongoing upheaval.
Asked the perennial Twitter question -- how's that business model going? -- he offered up this koan: "The business model is really focused around serendipity."
Twitter's strength is its ability to surface content users would otherwise miss, Dorsey said. Its moneymaking plan is to bring sponsors and their messages into that conversation.
Is it working? "The advertisers keep coming back and back and back," Dorsey said.
And if that business model needs some fine-tuning, well -- that's what Mondays are for.