Twitter plays musical chairs as founders' roles shift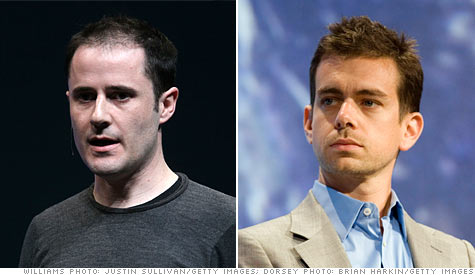 NEW YORK (CNNMoney) -- Twitter's transition from "cultural force" to "actual moneymaking business" isn't going smoothly. A management shift is in the works, with one of the site's creators ramping up his involvement and another quietly stepping away.
Co-founder Evan Williams, who handed the CEO title over five months ago to then-COO Dick Costolo, is rarely in the office these days. He spent most of February away from San Francisco at a ski resort, a vacation he extensively documented with photo-sharing app Instagram.
When Williams stepped down in October, the announced plan was for him to focus on product strategy. "I am most satisfied while pushing product direction," Williams wrote in a blog post at the time. "Building things is my passion, and I've never been more excited or optimistic about what we have to build."
But sources close to the company say Williams has had little day-to-day involvement with Twitter since December. (Williams did not respond to a request for comment.) On Thursday, Twitter announced a major product team hire, appointing former Google executive Satya Patel to be its director of product management.
As the company works on the biz model, it's also facing mounting pressure on the product side, as it positions itself as the leading architect of Twitter clients and the site's user experience.
Twitter has acquired a number of clients developed elsewhere and come down hard on those that don't meet its standards. Recently, the company briefly suspended UberMedia's UberTwitter and twidroyd, two popular mobile apps.
But buying out the competition and discouraging startups from building Twitter clients means the company has to be at the forefront of innovation around its platform. It's building out its product team, fast: More than 100 employees have joined Twitter since Costolo became CEO.
Meanwhile, co-founder Jack Dorsey -- who served as Twitter's first CEO before being forced out in 2008, and remains a board member -- has increased the time he spends working on the venture that once spurned him. Business Insider reported this week he is considering returning the company to work on product development.
Dorsey is currently CEO of his own venture, Square, a mobile payments platform. But as Twitter celebrated its fifth anniversary this month, he fired off a nostalgic series of tweets about the company's early days -- a subject he generally stays away from.
"Jack is back and involved in a very powerful way," one source close to the company told CNNMoney. Dorsey referred a request for comment to Twitter's PR team.
Twitter is staying mum on details.
"Twitter is lucky to have the involvement of its founders," a company spokesman said. "As we said last fall, we're fortunate that our chairman, Jack Dorsey, has been able to get even more engaged in the company. His assistance has and will continue to be invaluable."
The push for Act 2: Twitter has collected more than $360 million from investors over the past four years, with its latest fundraising round valuing the company at a staggering $3.7 billion. But those with an eye on the company say the venture capitalists backing it are ramping up the pressure for Twitter to flesh out its business model.
Dick Costolo, who took over five months ago, has close ties to Union Square Ventures, the lead investor in Twitter's earliest funding rounds. USV backed Costolo's last company, Feedburner (bought by Google (GOOG, Fortune 500) in 2007), and Costolo was himself an early angel investor in Twitter.
Bringing in someone from the outside wasn't unexpected.
"Sometimes it's just part of the normal evolution. The founder who creates a great product has pretty much done their job," said Gil Silberman, a San Francisco attorney who has experience representing both startup founders and companies during management shakeups.
Successful founders are "brilliant mavericks and iconoclasts who don't go by the rules," he said. Running a business requires different skills: "Good company managers set company budgets, time frames, expectations and goals and meet them."
But the divorce can hurt.
Union Square Ventures principal Fred Wilson -- a key player on Twitter's board -- made a revealing comment in Jeffrey Bussgang's book Mastering The VC Game, published last year.
"I think of venture capital as a service business. The entrepreneur is your client. It's a very weird relationship, because the entrepreneur is not exactly paying you," Wilson said. "They absolutely can't fire you. In fact, you can fire them. So it's among the weirdest kinds of service relationships that one could come up with."