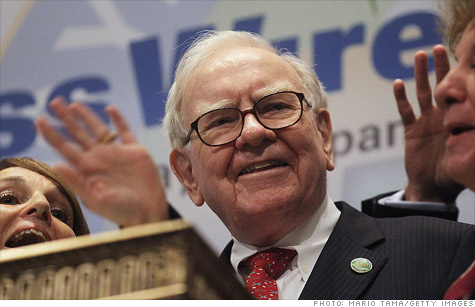 Berkshire Hathaway Chief Executive Warren Buffett, shown here ringing the bell at the New York Stock Exchange on Sept. 30, has reportedly bought $10.7 billion worth of IBM shares.
NEW YORK (CNNMoney) -- Warren Buffett said Monday that he's been buying up IBM stock this year and has amassed $10.7 billion worth of shares.
Berkshire Hathaway Chief Executive Buffett has been buying IBM since March and now holds about 64 million shares, or about 5.5% of the company. He said he does not intend to buy more.
IBM's (IBM, Fortune 500) futures edged up by less than 1%.
The technology company has had a volatile but so far successful run this year, with the stock climbing about 10% over the last six months.
The slump in equities hasn't scared Nebraska-based Berkshire Hathaway (BRKA, Fortune 500) away from Wall Street. The Oracle from Omaha went on a $20 billion stock buying spree during the third quarter, which was the worst quarter for U.S. stocks since the financial crisis.
Buffett's spree included the $8.7 billion purchase of chemical company Lubrizol Corp. and $5 billion in preferred shares and warrants of Bank of America. (BAC, Fortune 500)
Berkshire Hathaway has a diverse portfolio of stocks that don't necessarily hail from the same industries, including Johnson and Johnson (JNJ, Fortune 500), Coca-Cola (KO, Fortune 500) and Amazon (AMZN, Fortune 500).
The company owns Geico, Dairy Queen and Fruit of the Loom outright.