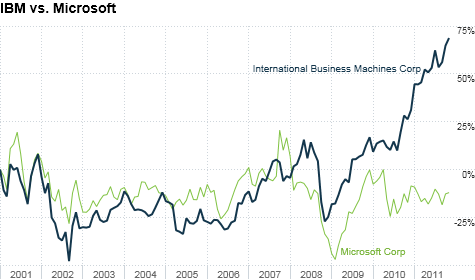 NEW YORK (CNNMoney) -- From 2001 through the beginning of 2009, Microsoft and IBM shared the same story: Once great technology growth stocks, their shares had flat-lined since the dot-com bust.
Microsoft has remained in a funk. Yet IBM has been able to shake it off -- it is now one of the hottest stocks on the market, up 28% this year.
IBM is so attractive that Warren Buffett surprised the investment world when he announced Monday morning that Berkshire Hathaway (BRKA, Fortune 500) had bought $10.7 billion in IBM (IBM, Fortune 500) shares over the past eight months. Berkshire now owns 5% of IBM's shares.
But Microsoft, like IBM, is performing well right now. Both have achieved record sales and profits in recent quarters. So why are investors not as excited about Microsoft (MSFT, Fortune 500) -- and is there something Microsoft can learn from IBM?
Analysts said it's all about what lies ahead. A bet on Microsoft is a bet on the viability of the personal computer: More than 60% of the company's revenue comes from PC software like Windows and Office.
But PC sales are slowing. Cloud-based services like Google (GOOG, Fortune 500) Apps and tablet computers like Apple's (AAPL, Fortune 500) iPad are coming on strong.
As a result, some analysts worry that the subscription-based income that Microsoft enjoys when businesses renew Office and Windows licenses could soon erode.
Others are concerned that Microsoft's executive leadership is stifling the kinds of forward-thinking innovations that may look beyond or even cannibalize Windows and Office.
"While Microsoft is now doing a lot of things right, the market is forward looking," said Colin Gillis, analyst at BGC Partners. "The reality is PCs will be around for quite some time, but investors are looking at the potential of disruption from moving to an app-based world."
Microsoft, for its part, disagrees. It believes that it is balancing its position in growth markets like enterprise dynamics, servers and the cloud with its consumer-heavy markets like Windows and Office.
"It's just a function of mix; how much of our revenue is coming from hardware, how much is coming from services, how much is coming from software," said Peter Klein, Microsoft's chief financial officer, at the company's financial analyst meeting in September.
"Now, going forward, we feel even more excited about our ability to generate revenue growth and operating profit growth," he added.
There was a time when IBM investors were also scratching their heads, wondering what exactly its strategy was and how it was going to make money down the road.
In 2007, in an effort to provide transparency to investors and guide the company forward, IBM deployed a roadmap, that, despite the dour economic landscape, boldly stated it would achieve earnings of $10 to $11 per share in 2010.
When it became clear that IBM was about to achieve those goals (it actually earned $11.52 per share in 2010), investors began to take notice. That kind of transparency is rare for a big company.
Buffett has always said he didn't invest in technology stocks because he didn't understand how they made money. He said IBM is an exception because the company spells it out to a "T."
"They're honest with the shareholders," said Buffett in an interview Monday morning on CNBC. "They lay out some very specific things they expected to accomplish. They give you a road map. You can read dozens and dozen of pages about it on their website and learn about it."
In its latest roadmap, IBM says it plans to achieve operating earnings of $20 per share by 2015. IBM is even more specific about how it plans to get there. The company says it expects 30% of sales will come from growth markets, that it will spend $20 billion on acquisitions, and that it will earn half of its profits from high-growth software sales.
Any new proposal at the company is tested against the roadmap -- IBMers must explain how the idea fits in before it is approved.
The strategy appears to be working, as IBM is already well on its way to achieving many of its goals for the next few years. Sales have grown by more than 10% in 40 countries. IBM has also continued making acquisitions in the analytics and cloud computing areas.
IBM also had a big win -- literally -- in its research and development unit, when Watson, the Jeopardy! playing computer, beat two human grand champions earlier this year.
"Microsoft spends a lot on R&D, but what do they have to show for it?" asked Rebecca Wettemann, analyst at Nucleus Research. "There's no Watson at Microsoft. What Microsoft needs is a Smarter Planet, a la IBM."
Of course, Microsoft has made big bets of its own. Kinect has been a stellar success. It's still too soon to tell whether Bing, Windows 8, and Windows Phone will transform the company, but they all have potential.
The problem, analysts say, is the lack of certainty that those gambles are strong enough to last well into the future.
But even if Wall Street falls in love with Microsoft again, don't expect Buffett to give any thought about buying stock in the company. Buffett said his friendship with Chairman Bill Gates keeps him from investing in Microsoft.
"Microsoft is a special case; Microsoft is off bounds to us because of my friendship with Bill," he told CNBC. "I think Microsoft is attractive. But we will never buy Microsoft. People would just assume Bill talked to me."