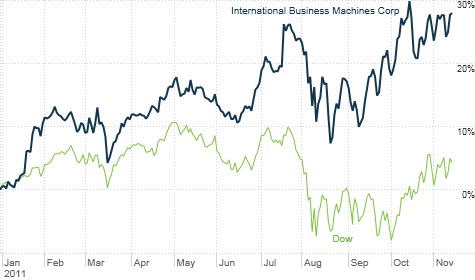 It's been a banner year for Big Blue. IBM is the top performing stock in the Dow Jones industrial average in 2011. And now investing legend Warren Buffett has taken a stake.
NEW YORK (CNNMoney) -- IBM does not sell car insurance. Or ice cream. Or underwear.
So what are we to make of the fact that Warren Buffett's Berkshire Hathaway (BRKB), which owns Geico, Dairy Queen and Fruit of the Loom, has made a massive investment in hardware, software and services titan IBM (IBM, Fortune 500)?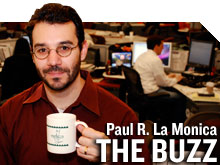 Not much.
Buffett may be known as the Oracle of Omaha. But he probably doesn't know much about software company (and IBM competitor) Oracle (ORCL, Fortune 500). Buffett is not a tech nerd ... and purchasing a more than $10 billion stake in Big Blue doesn't suddenly give him geek cred.
Investors said Buffett's investment in IBM is probably not the start of a new trend for Berkshire Hathaway. However, Berkshire Hathaway disclosed after the closing bell Monday that it also took a small stake in chip leader Intel in the third quarter.
After all, Big Blue has more in common with many other boring value stocks in Buffett's portfolio, such as Johnson and Johnson (JNJ, Fortune 500) and Coca-Cola (KO, Fortune 500), than sexier tech stars like Amazon (AMZN, Fortune 500) and Salesforce.com (CRM).
For one, IBM is fairly cheap. Shares trade for less than 13 times 2012 earnings forecasts. One reason why Buffett has eschewed tech stocks is because of how pricey they are. The fact that Buffett doesn't want to buy a dot-com trading at 80 times profits doesn't make him a Luddite.
"IBM is a classic Buffett stock. It has a reasonable valuation and the company has executed on its strategy flawlessly," said Sunil Reddy, a portfolio manager who follows tech stocks for Apex Capital Management in Dayton, Ohio.
Reddy, whose firm owns a small stake in IBM, said that he does not expect Buffett to invest in many more tech companies.
Ted Parrish, co-manager or the Henssler Equity Fund (HEQFX) in Kennesaw, Ga., agreed.
Parrish said Buffett was probably attracted to IBM because of its practice of buying back stock to increase earnings per share -- not because of any hot patents IBM owns or because Buffett is now a fan of servers and open source software.
Parrish, whose fund lists Apple (AAPL, Fortune 500) and IBM as its top two stock holdings, added that it's telling that Buffett chose to buy IBM as opposed to Apple -- or any other tech stock for that matter.
While Apple also has many of the characteristics that Buffett admires -- a dominant market position, fair valuation and pristine balance sheet -- Apple does not pay a dividend. Big Blue, on the other hand, has a steady payout that yields about 1.6%, not much less than the yield for a 10-year U.S. Treasury note.
"I don't want to say that IBM is the utility of the tech sector but it's close. We know that Buffett enjoys investing in growth and income," said Parrish.
But what about other tech stocks that pay dividends and now fall into the value camp -- such as Cisco Systems (CSCO, Fortune 500) and Hewlett-Packard (HPQ, Fortune 500)? They may have too many competitive challenges facing them to be appealing to Buffett.
Then there's Microsoft (MSFT, Fortune 500). It also fits this mold of mature techs, but Buffett told CNBC Monday he would never invest in Microsoft due to his close friendship with chairman Bill Gates.
It seems that Buffett doesn't want to be accused of insider trading. Makes sense -- especially in the wake of the David Sokol/Lubrizol brouhaha. But perhaps he also doesn't want to be in the uncomfortable position of having to be angry with his friend Gates for Microsoft's poor stock performance over the past decade.
Still, it's interesting that IBM was not the only tech company Buffett bought during the tumultuous third quarter. Parrish, speaking Monday morning before the Berkshire filing, nailed it by predicting that Buffett may want to invest in Intel (INTC, Fortune 500).
Parrish noted that Intel is also a dominant market leader that pays a sizeable dividend. In fact, Intel yields more than 3%. And at less than 10 times 2012 earnings estimates, it's even cheaper than IBM.
But Paul Nolte, managing director with Dearborn Partners in Chicago, said that IBM is really the only tech company that makes sense for Buffett as a major investment.
That's because IBM generates more than half of its sales from its services businesses. Buffett may not "get" the latest new gadgets. But he does "get" the notion that recurring revenue streams usually translate to healthy returns.
"Sure, IBM is in the tech category. But it's not really a big reach for Buffett to be interested in IBM," Nolte said. "It's really more of a consulting firm. So it's a backdoor way of getting into tech."
The opinions expressed in this commentary are solely those of Paul R. La Monica. Other than Time Warner, the parent of CNNMoney, and Abbott Laboratories, La Monica does not own positions in any individual stocks.