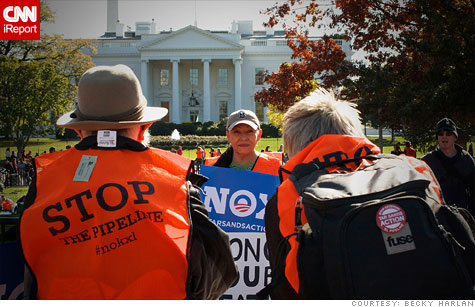 Protesters critical of the Keystone pipeline project gather outside the White House.
NEW YORK (CNNMoney) -- TransCanada says it is willing to reroute the proposed Keystone oil sands pipeline within Nebraska in view of environmental concerns.
The news comes less than a week after the Obama administration said it would delay a final decision on the controversial project's approval until at least 2013 in order to study the environmental impact of the proposed route and potential alternative routes.
A measure introduced in the Nebraska legislature on Monday would allow the state to independently fund and conduct environmental impact assessments of any proposed alternative routes before the governor of the state gives approval. Many in Nebraska were concerned about the fact that the original Keystone route passed through the environmentally sensitive Sandhills region and over the Ogallala Aquifer, an important water source for the region.
TransCanada (TRP) said in a statement Monday that the proposed legislation, if passed, "will ensure a pipeline route will be developed in Nebraska that avoids the Sandhills."
"I can confirm the route will be changed and Nebraskans will play an important role in determining the final route," Alex Pourbaix, TransCanada's president of energy and oil pipelines, said in the statement.
A spokeswoman for the Nebraska legislature said lawmakers would likely vote on the measure by Thanksgiving, though its approval would not speed up the State Department's lengthy review process.
"Nothing has changed in the process since last Thursday's announcement as any new proposed routes will be subject to the thorough, rigorous and transparent review process we have undertaken throughout," State Department deputy spokesman Mark Toner said in an email.
The $7 billion pipeline project would transport oil from Canada's oil sands region in Alberta to refineries on the U.S. Gulf Coast. Supporters say the pipeline would carry 700,000 barrels of much-needed oil per day while generating 20,000 new construction jobs and billions in tax revenue.
Critics, however, say the pipeline not only risks spills but would lock the U.S. into dependency on oil sands, a particularly dirty form of oil. They have also questioned the jobs figure and other purported benefits of the project, descending on Washington in recent weeks in a series of highly visible protests.
Whatever the outcome of the re-routing, environmentalists are hoping the State Department review will find that the oil sands extraction produces excessive greenhouse gas emissions, and will kill the project on those grounds.