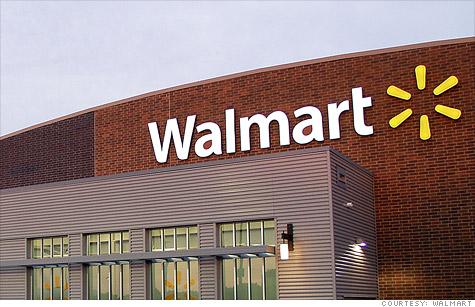 Wal-Mart hopes improved sales figures are a sign of a strong holiday season.
NEW YORK (CNNMoney) -- Wal-Mart's same-store sales crept up in recent months, reversing last year's losses and trumping expectations, prompting the world's largest retailer to provide a sunny forecast for the holidays.
Wal-Mart (WMT, Fortune 500) said that U.S. sales at its namesake stores open a year or more -- also known as same-store sales -- were up 1.3% in the fiscal third quarter ended Oct. 28, reversing a decline of the same percentage. Same-store sales at Sam's Club outlets rose 5.7%.
"I'm pleased that the sales momentum positions us exceedingly well for the holidays," said Mike Duke, chief executive of Wal-Mart Stores Inc., in the quarterly report.
Wal-Mart announced last week that it will begin its Black Friday sales at 10 p.m. on Thanksgiving Day. "The holiday season is under way and we're aggressively going after the business this season," said Bill Simon, chief executive of Wal-Mart's U.S. stores.
This increase is more significant when compared to last year's decline in sales. In the third quarter of 2010, total same-store sales slipped 0.7%, tripping up Wal-Mart's reputation as the go-to retailer in tough economic times.
Simon attributed the increase in same-store sales to "our focus on expanded assortment, product innovation and local relevance."
These elements "improved merchandise offerings throughout the store and customers responded," he added.
"Local relevance" is an apparent reference to Wal-Mart's push to sell locally produced goods.
In May, Duke surprised attendees at a business breakfast by the claiming that the majority of Wal-Mart's products are made in the United States.
Company spokesman David Tovar later clarified that comment by explaining that 54% of the total sales come from groceries and household goods such as detergent and paper towels, and that most of those products are American-made.
For the third quarter, Wal-Mart's net sales rose 8.2% to $109.5 billion.
Wal-Mart's consolidated net income fell by 2.7%, to $3.49 billion in the third quarter from $3.59 billion in year-ago quarter. But diluted earnings per share from continuing operations went up to 97 cents in the third quarter from 95 cents in the year-earlier quarter.
There are wider signs that customers are spending more money. The U.S. government reported Tuesday that retail sales edged up 0.5% in October.