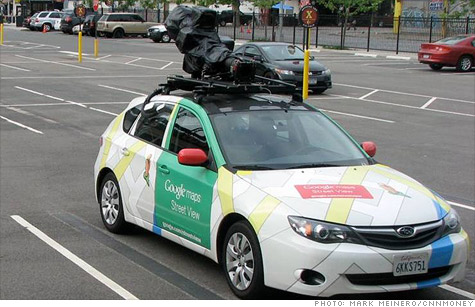 NEW YORK (CNNMoney) -- A year and a half after Google admitted that it had inadvertently collected unsuspecting people's personal information sent over the Internet via their wireless routers, the company has implemented a way for people to opt-out of having their routers tracked in the first place.
Google (GOOG, Fortune 500) records and stores locations of Wi-Fi networks on its servers for two reasons: to provide a location services like Google Maps for Android smartphone users if GPS is unavailable and to more quickly locate a GPS signal when one is around.
The locations of the wireless networks are typically crowd-sourced by Android phones themselves. But another way Google collects locations of Wi-Fi routers is to drive its Street View cars around neighborhoods. In addition to the cameras attached to their roofs that film 360-degree images for Google Maps, the cars also have antennas that discover local Wi-Fi networks.
The company faced an uproar in the spring of 2010 when European regulators found that Google's cars had been mistakenly downloading so-called "payload data" (snippets of information sent over the Internet via router) from Internet users who were logged onto unprotected wireless networks in range of its cars. That data could include e-mails, instant messages, usernames and passwords.
As a result of its investigation, European data protection authorities in September asked Google to provide people with a way to opt out of having their routers tracked. Late Monday, the company introduced a method to do that.
By changing your wireless network's name, or SSID, so that it ends with "_nomap," Google said it will no longer add that network's location to its servers. So, for instance, if you named your Wi-Fi network "Network," changing it to "Network_nomap" would mean that Google would no longer track your router.
The change won't be immediate, Google said. To ensure that your network location is no longer stored, an Android phone user with location services turned on will have to come in range of your network. After that phone sends the name of your network with the _nomap tag to Google, the company will process the information and remove your network from its servers.
In a blog post, Google said the fix "provides the right balance of simplicity as well as protection against abuse." By "abuse," Google said that could include someone else other opting your network out of Google's collection without your permission, though it's not clear why anyone would want to do that.
The company also said the extension could be used by other companies that track Wi-Fi network locations.
"Because other location providers will also be able to observe these opt-outs, we hope that over time the '_nomap' string will be adopted universally," the company wrote on its blog. "This would help benefit all users by providing everyone with a unified opt-out process regardless of location provider."
Apple (AAPL, Fortune 500), Microsoft (MSFT, Fortune 500), Nokia (NOK) and others use similar techniques to collect and store Wi-Fi location data.
Google isn't the only one to have been embroiled in controversy regarding the collection of wireless network locations. In April, just before the release of the iPhone 4, data researchers discovered that the iPhone appeared to be recording users' every move and sending the information back to Apple.
Apple eventually found that a software bug was failing to delete old location data after seven days, meaning that years of information was being recorded. The bug also meant that data was being sent to Apple even when users turned off location services on their iPhone.
Apple eventually fixed the bug with a software update.
For its part, Google has apologized for the payload data collection gaffe and said it never used the personal information it collected for any of its products. The company said it deleted the information following an investigation.