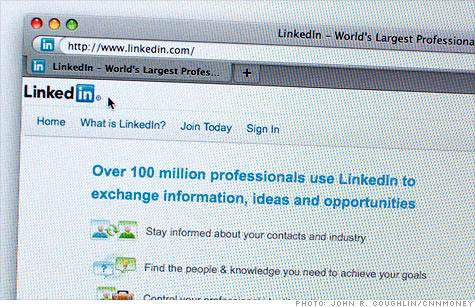 NEW YORK (CNNMoney) -- Private equity firm Bain Capital, one of the early investors in the social network LinkedIn, announced that it is dumping its entire stake in the company, which is worth more than $275 million.
Bain holds more than 3.7 million shares of the company, or about 4.3% of its outstanding stock, according to a regulatory filing. It bought into the company in 2008 as the largest investor in a $53 million funding round.
Three other investors are also cashing out -- though not completely. A venture capital firm run by German software giant SAP (SAP), LinkedIn co-founder Allen Blue and the head of LinkedIn's international business Arvind Rajan are selling a combined 2.5 million shares, worth about $225 million.
The sales follow a 180 day "lock-up" agreement following the company's May 19 IPO. That agreement prevented certain investors from unloading their stakes until the end of the period, which expires on Nov. 20.
In addition to the 6.2 million shares offered by Bain, SAP, Blue and Rajan, LinkedIn is offering investors the chance to buy another 1.3 million new shares, worth about $100 million. The company announced that second offering earlier this month.
LinkedIn (LNKD) said it is selling the stock to raise more money for the company to develop its product, sell services, and buy smaller companies.
In total, about $600 million worth of LinkedIn will go up for grabs on the offering date. LinkedIn, which only stands to gain from the $100 million that it plans to offer, has not yet set a date for the sale.
The 6.2 million shares that are being offered by current investors are all "Class B" stock, which hold 10 votes per share instead of the common "Class A" stock's 1 vote per share. When it's sold, it will be reclassified as "Class A" stock, meaning LinkedIn Chairman Reid Hoffman, who is hanging onto his entire stake for now, will see his voting power grow to 23.1% from 21.6%.
Shares have more than doubled in value after LinkedIn's IPO, even though the company turned only slight profits in 2010 and 2006, and has otherwise has been in the red every year since its 2003 inception.
The stock is still trading well above its IPO price, but shares took a hit after the company announced a $1.6 million loss for the third quarter earlier in the month, and shares fell by as much as 8% Tuesday following news of the stock sales.
It's fairly common for Investors to cash out shortly after an IPO, but second offerings are sometimes considered ominous signs for a stock. Those offerings can sometimes mean that expenditures have outpaced expectations.
Despite similar scrutiny about its financials, shares of Groupon (GRPN) have also remained above its IPO price. Groupon had its initial public offering Nov. 4.