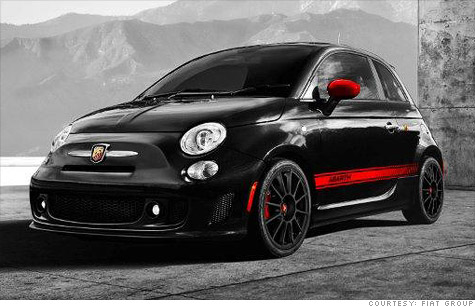 The Abarth 500 is a performance-tuned version of the Fiat 500 subcompact.
LOS ANGELES (CNNMoney) -- Fiat unveiled the American version its Abarth 500 compact car at the Los Angeles Auto Show Wednesday. This is the performance-tuned version of the Fiat 500 minicar.
This Abarth 500 has a turbocharged 1.4-liter four-cylinder engine that produces a maximum 160 horsepower compared to the 101 horsepower one available for the Fiat 500. It will also be equipped with a heavy-duty five-speed transmission.
While the Abarth 500 will not be a star at the drag strip it has been tuned to be a nimble little car.
Its zero-to-60 acceleration time is estimated to be about 7.5 seconds, only a little quicker than average. The non-turbocharged Fiat 500 takes about 10 seconds to get up to highway speeds.
The Abarth 500's steering and suspension are tuned for sharp responses and stable cornering, Chrysler spokesman Jiyan Cadiz said.
Abarth is a seperate division of Italy's Fiat Group, which also includes Maserati, Ferrari and Lancia. Abarth produces high-performance versions of Fiat cars. For now, at least, the 500 is the only Fiat model sold in the United States.
Fiat will also begin selling a plug-in battery-powered 500 in late 2012.
In the U.S. Fiat cars are sold by Chrysler dealers. Fiat and Chrysler have been partnered since Chrysler's 2009 emergence from bankruptcy.