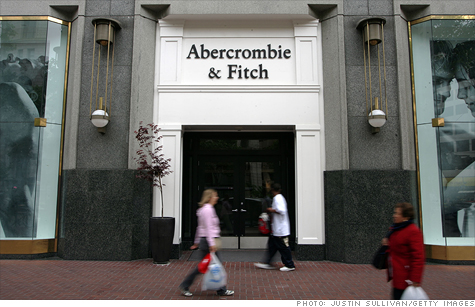 NEW YORK (CNNMoney) -- Shares of Abercrombie & Fitch plunged more than 15% Wednesday after the youth apparel retailer reported disappointing third-quarter earnings despite a jump in sales.
And if that wasn't enough, the retailer was also sued by its celebrity nemesis, Michael "The Situation" Sorrentino of MTV's "Jersey Shore."
The company earned $50.9 million, or 57 cents a share, in the quarter ended Oct. 29. That was little changed from the $50 million, or 56 cents a share, it earned a year earlier, but analysts surveyed by Thomson Reuters had forecast earnings to rise to 71 cents a share. The results were worse than even the most pessimistic forecast for the company.
Shares of Abercrombie & Fitch (ANF) fell $8.28, or 14.8%, to hit $47.60, a nine-month low for the shares.
CEO Mike Jeffries said the company's performance was hit by "cost challenges" and "uncertainty in the macroeconomic environment."
On Tuesday, that uncertainty manifested itself in the form of a $4 million lawsuit, filed in U.S. District Court in Miami, by Sorrentino and MPS Entertainment, the company he owns with his brother Marc.
Abercrombie & Fitch launched an advertising campaign in August based on the "ridiculous claim that Sorrentino was not worthy enough to wear Abercrombie clothing or that Sorrentino was so undesirable that wearing Abercrombie clothing would cause 'damage' to the defendant," reads the lawsuit.
The suit says the retailer made false claims of offering to pay Sorrentino to stop wearing its clothes on the show. Sorrentino claims that the retailer never actually offered to pay him, and then went on to launch clothes exploiting his trademarked phrase "G.T.L.," an acronym for gym, tan, laundry, and "Fitchuation," a distortion of his nickname.
Abercrombie did have some good news, in the form of its quarterly revenue. Sales rose 21% to $1.08 billion, in line with forecasts.
Sales at stores open at least a year, a closely watched retail measure known as same-store sales, increased 7%. But sales at its core Abercrombie & Fitch brand only rose 4%, while its Abercrombie for Kids and Hollister brands posted slightly stronger gains.
While the company said it is on track to open international stores, it also reiterated plans to close about 55 to 60 domestic stores as those leases expire, primarily at the end of the year.

An Abercrombie spokesman did not immediately return a phone message from CNNMoney.