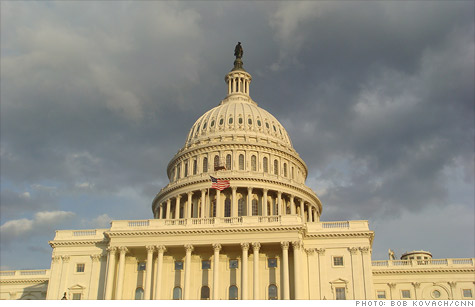 Congress must approve a new spending plan by Friday.
NEW YORK (CNNMoney) -- Facing another deadline to fund the government, Congress is once again coming down to the wire.
Surprise!
This time around, there appears to be little chance the government will actually close for business. Instead, lawmakers will consider a bill over the next couple days that will keep agencies running for another month.
Congress must complete the process by Friday, the last day agencies are able to spend federal dollars without new authorization.
A bit of an oddity, the bill -- called a "mini-bus," includes specific, year-long spending plans for five government agencies, and a resolution that will fund the remaining parts of the government at current levels until December 16.
Most agencies will continue to be funded at current levels, in line with the $1.043 trillion mark for discretionary accounts set down in the Budget Control Act, a product of the debt ceiling debate.
But the bill is not without winners and losers. Some agencies and programs will get a boost, while others will be forced to make due with reduced funds.
For example, Democrats will be forced to accept a funding level for the Commodity Futures Trading Commission that is well below what President Obama sought.
A key part of the Dodd-Frank financial reform bill, the agency is charged with regulating the murky -- and extremely large -- derivatives market. In order to do so, Obama requested just more than $300 million for the agency.
Instead, the CFTC will receive only $205 million. That will make implementing the new regulations more difficult for the cash-strapped agency, which has repeatedly argued it needs more funds to provide adequate oversight.
Amtrak will be subject to new policy restraints. The oft-maligned railroad will be required to limit overtime payments to employees and will lose federal funding for routes where a 50% discount off peak fares is offered.
Other programs will enjoy a funding increase, including WIC, a program that uses federal money to subsidize the food and nutrition needs of children from low-income families.
Passage of the bill means a one-month extension for lawmakers to settle on detailed spending plans for remaining federal agencies. If Congress drags its feet, yet another short-term funding extension will be required.
Congress has already approved two short-term extensions for the 2012 fiscal year. In 2011, lawmakers relied on seven short-term resolutions before full-year funding levels were set in April.