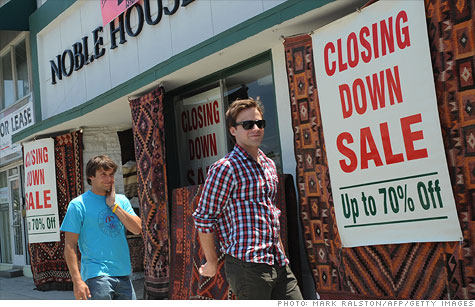 New survey shows the lowest level of optimism about the economy in five years.
NEW YORK (CNNMoney) -- Pessimism toward the U.S. economy -- particularly concerning the near future -- is rapidly growing among America's wealthy, according to the PNC Wealth and Values Survey released Wednesday.
"Only 10% of respondents are optimistic about the U.S. economy," the annual survey said. "Nearly half characterize the U.S. financial system as 'broken.'"
In addition, the survey indicates that 76% of America's affluent are concerned with the U.S. economy specifically over the next six months, a sharp increase from 57% last year.
According to PNC, the online survey was conducted among roughly 1,100 individuals, each with a minimum annual salary of $150,000 and over $500,000 in investable assets -- over $1,000,000 in investable assets among retired participants.
"The survey captures the anxiety and frustration of the economic and political environment that we are in," said Thomas P. Melcher, executive VP and managing director of Hawthorn, a division of PNC Wealth Management.
"These results clearly tell us wealthy investors are looking for more positive news to get them back on a more confident path."
However, the study reports that most of the high-net-worth individuals surveyed have not been hurt by the struggling economy - only 20% of respondents claim their net worth has declined over the past five years and 45% have seen growth.
This may be why -- despite overall pessimism -- 81% of those surveyed remain confident that they will maintain or grow their assets in the long term.
"The bottom line remains: investors should look to the long-term horizon and determine their own risk tolerance," according to Melcher.