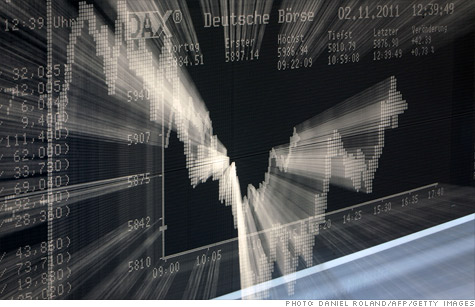 Stocks in Germany have been hit by worries that the eurozone sovereign debt crisis is spreading
NEW YORK (CNNMoney) -- The debt crisis in Europe may be entering a dangerous new phase as core members of the euro currency union now appear vulnerable to attack by the bond market.
Investors have long forsaken government debt issued by bailed-out nations such as Greece, Portugal and Ireland. But bond yields jumped this week for essentially every euro area government except Germany as investors doubt that policy makers will get the crisis under control.
"I think we are perilously close to the start of a credit crunch and full-blown contagion spreading across the eurozone," said Alan Brown, chief investment officer at London-based asset management firm Schroders.
The European Central Bank tried to calm the market Wednesday, stepping in to buy Italian and Spanish bonds, according to Nick Stamenkovic, market strategist at Ria Capital Markets in Edinburgh.
Despite the intervention, yields on Italian 10-year notes edged back above 7% late in the day, and yields on Spanish 10-year notes moved up to about 6.4%.
"The ECB is doing their bit today, but it's only temporary and on a limited basis," said Stamenkovic. "They cannot prevent yields from going up -- they can only limit the damage."
Meanwhile, yields edged higher for a second day on bonds issued by core euro area nations such as France, Belgium, Austria, the Netherlands and Finland.
While borrowing costs in these countries remain comparatively low, analysts say the recent uptick is troubling.
Yields on Belgian 10-year notes have traded near 5% recently, although rates eased somewhat Wednesday.
France is also a source of concern, with yields inching above 3.7%. The nation's top credit rating has been called into question recently amid concerns about French bank's exposure to sovereign debt.
By contrast, German bond yields remain around 1.8% -- near record lows -- as investors continue to bet the region's largest economy is a safe place to park money.
The increase in borrowing costs across Europe raised worries the debt crisis in Greece and Italy is now spreading to other members of the currency union. The fear is that nations that were once considered safe from contagion are now at risk.
"Six months ago nobody would have questioned the validity of French government bonds," said Stefan Hofrichter, chief economist at RCM, a company of Allianz Global Investors in Frankfurt. "Now it has happened."
The broader concern is that the crisis will plunge Europe in to a deep and painful recession that would ripple across the global economy. Economic data released Tuesday highlighted the dire outlook for growth in the eurozone and the rising threat of a recession.
There is also the risk that the euro currency union may not survive the crisis in its current form, a development that could have severe and unknowable consequences for the global financial system.
European leaders proposed a series of measures in October to address the crisis, including a plan to boost the firepower of a government-backed rescue fund. In addition, new leaders in Greece and Italy have pledged to follow through on measures to reduce debt and boost economic activity.
But the plan to leverage the European Financial Stability Facility remains a work in progress, with few indications that non-European nations such as China will invest in the fund. And investors are skeptical that new leaders in Greece and Italy will be able to overcome political and popular opposition to reform.
"The market is telling us that there is a fundamental disbelief that the eurozone debt crisis can be solved by the measures that have been put on the table," said Hofrichter.
The lack of viable solutions has raised pressure on the ECB to aggressively and overtly support the sovereign debt market. But officials have said repeatedly that the ECB is opposed to becoming the lender of last resort for euro area governments.
Some analysts say the reluctance is part of a strategy to force governments to commit to additional reforms and the ECB will eventually step up its rescue efforts.
"The ECB will have to do something," said Stamenkovic. "There just isn't the firepower elsewhere."