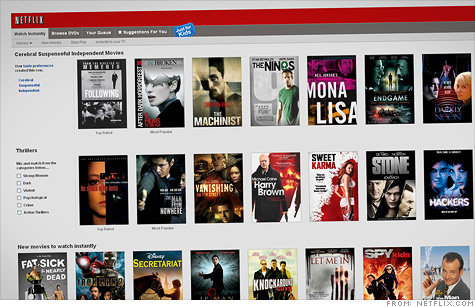 NEW YORK (CNNMoney) -- Millions of current and former Netflix customers woke up Wednesday to an e-mail about a class-action lawsuit involving the price of online DVD rentals.
It's legit, and it's the latest twist in a legal saga that started two years ago.
In May 2005, Wal-Mart and Netflix struck a pact: Wal-Mart would scrap its struggling DVDs-by-mail subscription service and instead encourage its customers to sign on with Netflix. In return, Netflix agreed to promote Wal-Mart's DVD sales business.
But in 2009, a group of Netflix subscribers banded together and filed a lawsuit charging the two companies with collusion. The gist of their complaint is that the two companies agreed to carve up the market and stay off each others' turf: DVD rentals for Netflix and DVD sales for Wal-Mart. The deal helped Netflix entrench itself as the market's dominant player and raise its subscription prices, the lawsuit alleges.
Last year, a California judge certified the lawsuit as a class action, bringing Netflix's entire subscriber base into the lawsuit. He has not yet ruled on the merits of the case.
Wal-Mart (WMT, Fortune 500) decided to take its chips off the table. It agreed earlier this year to settle the case, without admitting any fault. Netflix (NFLX) is continuing to fight and remains in litigation.
"We believe the lawsuit has no merit and we will continue to aggressively defend it," Netflix spokesman Steve Swasey told CNNMoney.
The Wal-Mart settlement class includes anyone in the U.S. or Puerto Rico who paid a Netflix subscription fee for DVD rentals from May 19, 2005, through September 2, 2011. More details on the lawsuit are available at www.OnlineDVDclass.com
Under the terms of the proposed settlement, Wal-Mart will pay $27.25 million in cash and gift cards -- but a good chunk of that money will go to the lawyers. Subscribers could take home mere pennies.
The legal team that brought the lawsuit is asking the court to award attorneys' fees of up to 25% of the settlement cash, totaling $6.8 million, plus other costs estimated at $1.7 million. The suit's lead plaintiffs -- the Netflix subscribers who brought the complaint -- would receive a proposed $5,000 each. The remaining money would be split up among those who fill out a claim form and put in for their share of the settlement.
That leaves an estimated $18 million or so to be divvied up over a class that could include millions of people. Netflix had nearly 24 million U.S. subscribers as of Sept. 30, the company said in its third-quarter earnings report. If even half of them were to file claims, each claimant would receive a payment of around $1.50.
Netflix subscribers have until Feb. 14 to file a claim if they wish to be included in the settlement. The judge overseeing the case will hold a hearing in March about the settlement's proposed terms, and will decide whether to uphold or reject the deal.
In an ironic twist, Netflix and Wal-Mart aren't so buddy-buddy these days. Last year, Wal-Mart launched a streaming movie service that takes direct aim at its former partner.