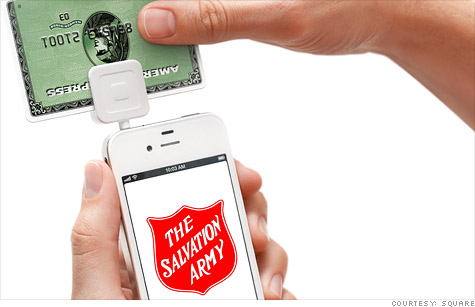 The Salvation Army, known for its red kettles, is teaming up with Square to digitize donations.
NEW YORK (CNNMoney) -- The Salvation Army is well-known for its ubiquitous red kettles and bell-ringing change collectors.
For this holiday season, the charitable organization is digitizing its 19th-century mode of cash collection with Square, a mobile payment platform.
The non-profit organization will be accepting donations via Square-enabled smartphones at some of the red kettles in four test cities- New York, Chicago, Dallas and San Francisco -- when its holiday charity season kicks off on Thanksgiving.
"The very first kettle was in San Francisco 120 years ago," said Major George Hood of the Salvation Army. "We've taken that concept and grown it over the years. We're finding that technology is changing so rapidly and the opportunities are there."
Square Inc. provides credit card reading services for mobile devices including the iPhone, iPad and Android. Hood said that Square's technology makes it easier for people to donate money, with transactions completed in as little as five seconds.
Square charges a 2.75% fee for financial transactions, with part of going to credit card companies like MasterCard (MA, Fortune 500), Visa (V, Fortune 500), American Express (AXP, Fortune 500) or Discover (DFS, Fortune 500).
Hood said the fee is not being waived for charitable donations. So in other words, a $100 donation would actually net the charity $97.25.
Square did not return immediately a message from CNNMoney about the fees.
The Salvation Army, which was created in the 19th century as a Christian organization, becomes highly visible ahead of the holiday season with the launch of its Red Kettle Campaign every Thanksgiving. Street corner volunteers collected $142 million through the campaign last year, which the Salvation Army used to provide Christmas dinners, clothing and toys to low-income families.
Sprint (S, Fortune 500) donated the Square-enabled smartphones for this year's campaign. Hood said that he expects them to be more user-friendly than the credit card kiosks that the Salvation Army has experimented with over the last couple years.
A relatively small amount of last year's red kettle donations - $60,000 -- was collected through credit card kiosks, said Hood, noting that they were less convenient and more expensive to maintain than he had hoped.
Square is run by Chief Executive Jack Dorsey, who is no stranger to social media. He is also the chairman and co-founder of Twitter.
Dorsey's corporate philosophy, as he explains in a video on the Square site, is that consumers will spend more money if the process of paying is made easier for them.