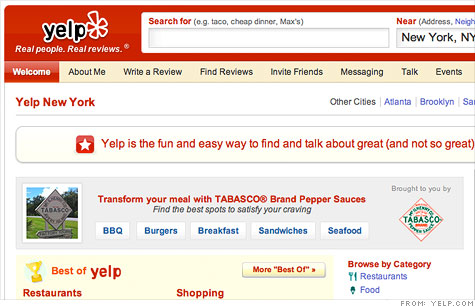 NEW YORK (CNNMoney) -- Yelp is the newest member of the Internet company IPO parade this year. The local business reviews site filed on Thursday afternoon to raise up to $100 million in a public offering.
Yelp, based in San Francisco, has not yet said which exchange its stock will trade on or how many shares it plans to sell.
Founded in 2004, Yelp has developed a ubiquitous brand and amassed more than 22 million reviews of restaurants, salons, dentists and other businesses. But like many other tech companies testing the public markets this year, it isn't yet profitable.
For the first nine months of 2011, Yelp had a net loss of $7.6 million on sales of $58.4 million. During the same period in 2010, Yelp lost $8.6 million on $32.5 million in revenue.
Yelp's main revenue stream is selling advertising to local and national businesses. It also runs daily deals, but in August Yelp cut half its sales staff in that unit.
Yelp's filing revealed that Google (GOOG, Fortune 500), which is developing its own Yelp-like offerings, is a key traffic source -- which puts Yelp in a precarious position. At a Senate hearing earlier this year on Google, Yelp CEO Jeremy Stoppelman testified about Yelp's growing rivalry with the search Goliath.
"[Google] has promoted its own competing products, including Google's local products, in its search results," Yelp wrote in its filing. "Given the large volume of traffic to our website and the importance of the placement and display of results of a user's search, similar actions in the future could have a substantial negative effect on our business and results of operations.
Last quarter, about 61 million unique visitors hit Yelp's site, and around 5 million used its mobile app.
Like some other Internet companies, Yelp has a dual-stock structure that lets the company's insiders retain significant control over corporate decisions even after others become stockholders. Google and Facebook have similar structures.
Stoppelman and other executives hold "Class B" shares, which have 10 times the voting power of other shares. It's an approach that is controversial with shareholder advocates but popular among tech startups that want to ensure that their founders are able to retain control and execute their vision.
Yelp's unprofitable status may not spook investors if past IPO performances are any indication. Earlier on Thursday, another reviews site popped in its public debut: Angie's List (ANGI) shares jumped 33% when it started trading.
The list of other 2011 Internet IPOs is full of companies that have spotty or nonexistent profitability records.
This month, shares of daily-deals site Groupon (GRPN) popped 31% in its debut, despite criticism of unorthodox accounting measures that led to several downward revisions of its financials. The IPO raised $700 million for Groupon's corporate coffers, making it the second-biggest tech IPO in history, behind the $1.7 billion Google (GOOG, Fortune 500) raised in 2004.
Professional networking site LinkedIn's (LNKD) shares more than doubled in its May IPO, even though the company turned only slight profits in 2010 and 2006 and has otherwise has been in the red every year since its 2003 inception. The stock is still trading well above its IPO price.