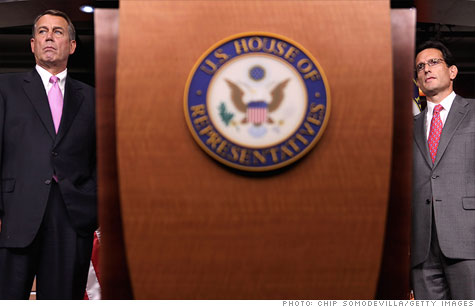 House Republicans have led the charge for spending cuts.
NEW YORK (CNNMoney) -- On election night in 2010, Republicans were united by one mission: Cutting government spending now.
"I'm here to tell you tonight that our new majority is prepared to do things differently," then Minority Leader John Boehner told an election night crowd. "It starts with cutting spending instead of increasing it."
And cut they have.
Republicans pushed Congress to slash spending levels for the 2011 and 2012 fiscal years, and now have an opportunity to make further reductions: the super committee.
The 12-member committee has the chance to substantially alter long-term deficit projections if they are able to "go big" and agree on a debt reduction package that exceeds the committee's $1.2 trillion goal.
Even if the committee fails, Republicans will have succeeded in focusing much of the conversation in Washington on long-term debt problems.
Shortly after seizing a majority in the House, Republicans locked horns with Democrats over the fiscal 2011 budget, resulting in a protracted battle and short-term spending measure after short-term spending measure.
With the government teetering on the brink of a shutdown, Speaker Boehner and President Obama struck a deal in April that set 2011 federal spending $38.5 billion below 2010 levels.
"Republicans have been able to leverage 'must pass' pieces of legislation to push through budget cuts," said Craig Jennings, a federal budget expert at the progressive think tank OMB Watch.
Next up was the debt ceiling. In exchange for raising the amount of money the Treasury is allowed to borrow, Republicans demanded steep cuts in government spending that would be carried out over a 10-year period.
This time, a possible sovereign default hung over the negotiating table, and lawmakers were -- again at the last minute -- able to agree on a package of spending cuts.
The deal would initially reduce deficits by $917 billion over a decade primarily by imposing caps on discretionary spending. And the super committee would work to find another $1.2 trillion in savings.
One important wrinkle: The debt ceiling budget cuts are structured to start small in the first few years and then balloon toward the end of the decade. In 2012, the spending caps would result in only $21 billion in savings.
"The actual dollar amounts of the 2011 and 2012 budget cuts -- compared to a trillion dollar deficit -- are very, very small," Jennings said.
Indeed, even with all the budget cuts enacted by Congress since the 2010 midterm election, spending levels are slated to resume their upward climb in 2013, according the Congressional Budget Office.
Complicating matters, there is no guarantee that future Congresses will stick to the spending caps that became law when the debt ceiling was raised. Congress has in the past ignored spending limits imposed by previously approved laws.
With the 2012 campaign now at full speed, the super committee is likely to be the last major chance for significant cuts anytime soon.
The committee is looking for $1.2 trillion in savings over 10 years. But the group appears to be stumbling over the same issues that have confounded lawmakers all year: taxes and entitlements.
If the committee deadlocks, automatic cuts in defense and nondefense spending will kick in starting in 2013.
Those cuts would be evenly divided between the two categories and would exempt Social Security and programs for low-income people, such as Medicaid. It would also limit cuts to Medicare.
At least that's how it's supposed to happen. But Congress can also amend or repeal the law.
While Republicans have certainly succeeded in focusing the discussion in Washington around federal spending levels, bitter partisanship has taken its toll.
The debt ceiling deal allowed the U.S. to avoid default, but the pristine credit rating of the United States did not survive. Citing a dysfunctional political system, Standard & Poor's lowered its rating on U.S. debt for the first time in history.
And with lawmakers on both sides of the aisle seemingly unable to compromise, deficits won't be disappearing anytime soon.
"All the activity going on today does absolutely nothing to address the problems of 20 years from now, which are all rooted in the increasing cost of health care," Jennings said.