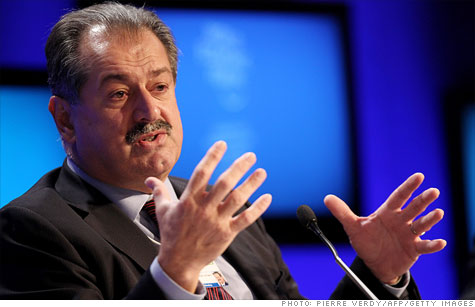 Dow Chemical CEO Andrew Liveris is the latest CEO to call for more taxes on millionaires.
WASHINGTON (CNNMoney) -- Dow Chemical Chief Executive Officer Andrew N. Liveris is calling on Congress to raise taxes on millionaires -- including himself.
Liveris, who has run Dow Chemical Co (DOW, Fortune 500). since 2004, is among few CEOs since Warren Buffett to publicly embrace proposals made by the Obama administration to close tax corporate loopholes, lower corporate taxes and, perhaps more controversially, raise income taxes on the wealthiest citizens.
"Come on, everyone over a certain threshold of money --- and you can define what it is -- but I can tell you the highest tax payers, including me, should be paying more," Liveris said during a speech on Wednesday night.
The move to raise taxes on the wealthy was made famous by Buffett, chairman of Berkshire Hathaway (BRKA, Fortune 500).
But few of the nation's other top CEOs have publicly supported higher taxes on the wealthy.
Liveris made the comments to corporate leaders while receiving an award from the U.S. Council for International Business at the Waldorf Astoria hotel. While his speech did garner applause a few times, his call to raise taxes was not applauded.
Liveris said that balancing revenue collection and distribution of wealth is "what made this country great."
Liveris' comments could give a new boost to President Obama and Democratic efforts to attack mounting long-term deficits by hiking taxes on those making a million dollars or more, which Obama dubbed the "Buffett rule."
Liveris didn't mention the Buffett rule, but he did cite the administration's recent efforts on tax policy, saying "we are not at the right corporate and income tax" rates.
"Come on, we are underpaying for our future," Liveris said.
Several calls to Dow Chemical were not returned on Thursday.
Liveris delivered his speech on the same day that a group of two dozen millionaires lobbied lawmakers on Capitol Hill to demand that their taxes be raised. That group is asking Congress to allow the tax cuts passed during the George W. Bush administration to expire.
"Like all sensible Americans, Mr. Liveris has realized that the wealthiest Americans need to help get our country out of this jam," said Erica Payne, director of the Agenda Project, an advocacy group that helped organize millionaires to lobby lawmakers on tax policy.
Liveris talked a lot about how the business community and the federal government need to work better together and not view each other as the enemy.
"We can and should have disagreements," he said. "But as long as my community looks at government as the enemy and as long as government views business the same way, we'll never overcome these national challenges," Liveris said.