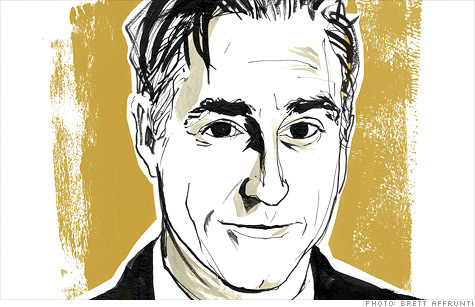 Picks from a pro: Michael J.Cuggino, fund manager of the Permanent Portfolio.
(MONEY Magazine) -- Since its launch in 1982, the Permanent Portfolio has stuck to the same eclectic mix of Treasuries, high-quality corporate bonds, gold bullion, silver, growth stocks, commodity and real estate equities and Swiss-franc-denominated assets.
For most of the '80s and '90s, this strategy lagged behind funds that combine stocks with other investments. But after 2000, when gold and commodities began to take off, the Permanent Portfolio (PRPFX) whipped its peers.
Michael J.Cuggino spoke with contributing writer Laura Lallos.
Gold has been on a tear for years, owing largely to investor fear. Is there a fundamental reason to think that prices might continue to climb?
Yes. There's still a focus on looser monetary policy by central banks here and around the world. That's keeping real interest rates low to negative, always a bullish sign for gold.
Demand is growing from the emerging markets but also from investors looking to diversify their exposure. Yet there is no significant increase in supply.
Gold is coming of age as a legitimate asset. Today ETFs that invest in bullion, such as SPDR Gold Shares (GLD), offer an easy way in.
Isn't gold a risky bet now, with prices down since September?
I don't believe anything has fundamentally changed with respect to the long-term investment view toward gold. Investors can buy gold on sell-offs like those we recently experienced.
In contrast to gold, commodity stocks have risen in recent years on hopes of a global recovery.
We like commodity companies that can maintain pricing power, expand assets in the ground, and reduce costs.
BHP Billiton Ltd (BHP). is a great example. It is based in Australia, but has operations around the world in a number of different commodities, including iron ore, oil, and gas.
Send your investing question to The Help Desk.
There's also Exxon Mobil (XOM, Fortune 500), one of the biggest integrated oil producers.
Where can scared stock investors turn if the U.S. economy worsens?
We like companies with significant non-U.S. revenues.
Take Wynn Resorts (WYNN). Its sluggish casino business in Las Vegas is starting to recover, and Wynn has seen great growth in China.
FedEx (FDX, Fortune 500) has managed strong growth in the U.S. and even more internationally. It's cyclical, and earnings may slow, but it is an industry leader and a long-term holding. We don't trade stocks, we invest in companies.