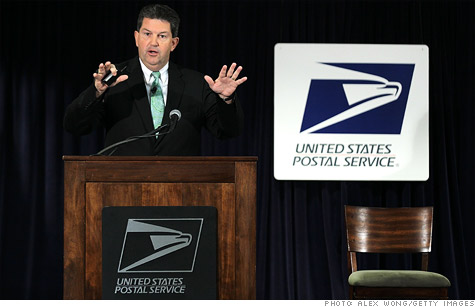 Postmaster General Patarick Donahoe says plans to save the postal service in Congress aren't good enough.
WASHINGTON (CNNMoney) -- Congressional deals to save the U.S. Postal Service from extinction aren't good enough, said the head of the U.S. Postal Service on Monday.
U.S. Postmaster General Patrick Donahoe said the two separate bills that have advanced in House and Senate committees "delay tough decisions" and "don't come close" to giving the Postal Service the flexibility it needs to stem steep financial losses.
"Congress needs to step back and look at the postal service as a business," said Donahoe in a speech that called for giving the Postal Service more tools to cut costs quickly.
Donahoe made clear in a speech at the National Press Club that he's still pushing for measures to allow his agency to cut Saturday service, raise postage prices, close post offices and processing facilities and rework employee health care plans and other legacy worker costs.
The Postal Service is on the brink of bankruptcy. It's facing another 20% drop in mail volume on top of the 20% volume drop it's already weathered. It's racked up $5.1 billion in debt this year and it's facing a deadline to make another $5.5 billion payment to its health care retirement fund that just got delayed a month to Dec. 18.
Despite the dour situation, Donahoe and the head of one of the biggest postal unions, the National Association of Letter Carriers, both said they were close to agreeing to some cost-cutting measures through negotiations on union contracts that are now on a temporary extension until Dec. 7.
Donahoe said that in its talks with unions, the White House and with lawmakers, the agency is seeking some $20 billion in cost cutting by 2015. The National Association of Letter Carriers say they've proposed a plan to the agency to cut costs by $20 billion over the next 10 years.
That union plan would, among other things, push retirees and possibly current workers who are 65 or older out of the federal health care retirement program and into Medicare, said Fred Rolando, president of the NALC.
With its 280,000 postal workers, the NALC recently hired Ron Bloom, one of the advisors who helped steer the U.S. automakers out of bankruptcy.
Rolando said that moving workers who are 65 or older out of the federal retirement health care plan into Medicare would save as much as 60% of the $20 billion in savings his union is proposing in negotiations. But Rolando declined to detail other cost-cutting proposals that might account for another $8 billion in savings.
The unions are also pushing hard to save postal offices from closing, protect union contracts and keep Saturday service. But Rolando's speech marked one of the first times in recent months that a union has indicated support for a more controversial cost-cutting measure.
"We are well aware with what has to be done with cost reduction and reduction of liability for future retiree health care benefits, and we do have a plan," Rolando said.
The idea of pushing postal retirees into Medicare was also proposed the original bipartisan Senate deal to save the post office. Yet,senators stripped that controversial measure from the bill during a committee meeting earlier this month.