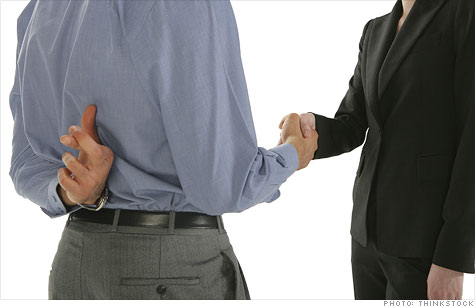 The nation's 10 biggest banks could stand to lose as much as $185 billion in deposits in the next year due to customer defections.
NEW YORK (CNNMoney) -- Customer defections over fees and other charges may not drive the nation's biggest banks out of business, but some institutions could stand to lose a significant chunk of their deposits if they don't work harder to make customers happy.
In recent years, consumers have grown increasingly frustrated as big banks instituted new fees and hiked interest rates on credit cards. In the weeks after Bank of America (BAC, Fortune 500) announced plans to introduce a $5 fee for debit card usage, nationwide movements formed urging consumers to dump their big banks and switch to smaller community banks and credit unions.
Even though hundreds of thousands of customers signed on, it barely put a dent in the coffers of America's biggest banks, which hold about 40% of total deposits. Yet, many experts believe that if the banks don't clean up their act, more consumers will follow suit and more serious problems will ensue.
The nation's 10 biggest banks could stand to lose as much as $185 billion in deposits in the next year due to customer defections, according to cg42, a Wilton, Conn.-based management consulting firm that has conducted research for several of the nation's top banks. The top 10 banks hold a total of $2.04 trillion retail deposits (deposits made by consumers and small businesses), according to data from cg42, which is based on each bank's annual report.
The firm, which surveyed nearly 6,000 bank customers between June 23 and July 25 (well before the Bank of America debit card fee brouhaha), said the main reasons customers would close their account and take their money elsewhere included frustration with customer service, fees and other unfair charges.
Out of all the big banks, Bank of America is the most vulnerable and could lose up to 10% of its customers and $42 billion in consumer deposits in the next year, the survey found. The bank's total retail deposits stand at $407 billion (while total deposits, including corporate deposits and deposits from other financial institutions, amount to nearly $1 trillion, according to FDIC data).
A spokeswoman for the bank declined to comment on the findings of cg42's report.
John Ulzheimer, credit specialist at SmartCredit.com, said that while cg42's projected losses seem a little high, he does think a growing number of big-bank consumers will be heading for the exits in the new year.
Many disgruntled customers have taken the first step of opening an account at a smaller bank or credit union, but have yet to close their account at the larger institution -- mainly because of the time and effort it takes to do things like switch their direct deposit, set up direct billing and secure a debit card. Once consumers get that last bit of motivation they need, banks could see a big dip in deposits, he said.
"I can see a 'dump my bank' as a popular [New Year's] resolution this year," said Ulzheimer.
Don't leave us! The banks haven't been oblivious to consumers' discontent. In a startling reversal late last month, every major bank that announced an initiative to institute a monthly fee for debit card usage -- from Chase (JPM, Fortune 500) to the much-maligned Bank of America -- backpedaled on the fee. And now, in order to repair their wounded relationships with customers, banks are getting rid of other fees, too.
"Big banks with their significant fees and high interest rates have become the villain of both Congress and consumers for the past few years," said Bill Hardekopf, CEO of credit card comparison site Lowcards.com. "Now, some banks seem to be trying to polish their tarnished image by dropping fees and increasing rewards."
In addition to putting an end to the $3 debit card usage fee it was testing, Chase is also getting rid of a $10 a month checking account fee it was trying out in Oklahoma and a $15 monthly checking account fee in Atlanta.
Other less controversial fees are being removed from credit cards, a move aimed at both improving the bank's image, as well as pushing consumers toward using credit cards instead of debit cards (which have become increasingly expensive for the banks to offer), said Hardekopf.
Discover (DFS, Fortune 500) eliminated its 2% foreign transaction fee earlier this month, saying its goal is "to keep our engaged customers loyal and encourage non-engaged cardmembers and prospects to consider Discover." Citi (C, Fortune 500) and Chase have been removing foreign transaction fees from certain cards or introducing cards without these fees in the past year.
Meanwhile, Chase introduced a new version of its Chase Slate card this month that comes without the 3% balance-transfer fee (as long as the transfer is made during the first 30 days of opening the card) that most new card offers come with.
Changes like these may not be enough to convince customers that a bank has turned over a new leaf, but it does indicate that banks are trying a little harder to listen to their customers' concerns and needs, Hardekopf said.
"We understand Americans are looking for more from their financial institutions during these difficult economic times, and we are listening to what our customers are saying," Richele Messick, a Wells Fargo (WFC, Fortune 500) spokeswoman said.
Yet, just because the banks have taken certain fees off the table doesn't mean they have your best interests at heart, warned Ulzheimer. It's still all about the money, and ultimately, a bank's bottom line comes first. Financial institutions are constantly looking for new ways to grow revenue, whether it's in the form of fees, lower deposit rates or higher credit card interest rates. They just know need to keep a balance, so that any loss doesn't outweigh the benefit.
"I don't think [banks] truly care one iota about what their customers think about them as long as they keep using them for banking-related services," said Ulzheimer. "Banks care when they lose money -- that's about it."