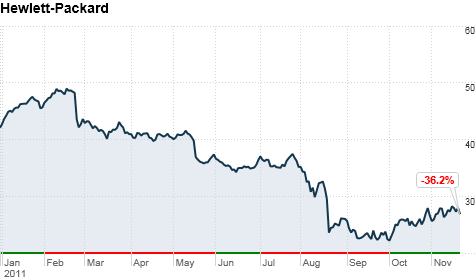 NEW YORK (CNNMoney) -- Hewlett Packard had a miserable autumn. As winter approaches, new CEO Meg Whitman hopes the bulbs the company is now planting will help the tech giant sprout new, lasting growth in the coming months and years.
In its first earnings report since Whitman took over as CEO, HP on Monday slashed its business outlook and redefined its strategy once again.
The hope: By giving investors a baseline for growth and clarity about its business plan, HP can reboot investors' prospects for the company, put the past behind it and look to a brighter future.
"It's Meg Whitman's job to reset and lower expectations going forward," said Jeff Kagan, an independent technology analyst. "She wants expectations to be at their lowest possible; that way any good news will look terrific."
For the current quarter, the company said it expects to earn between 83 cents and 86 cents a share, excluding one-time charges. For the full year, HP believes it will earn at least $4 per share without one-time items.
Both estimates came in significantly below Wall Street's median forecasts of $1.11 per share for this quarter and $4.84 for the year.
Under ousted CEO Leo Apotheker's regime, HP repeatedly lowered its guidance, disappointing investors throughout the year. Analysts had been clamoring for HP to set guidance at a more achievable level.
Whitman said Monday that the company's only place to go from here is up.
"We need to be consistent; no more surprises," said Meg Whitman, HP's CEO, on a conference call with analysts. "We need to get back to the business fundamentals in fiscal 2012, including making prudent investments in the business and driving more consistent execution."
Shares of HP (HPQ, Fortune 500) initially rose more than 1% in after-hours trading, as investors seemed to cheer the fact that HP may be finally offering a realistic outlook. The stock eventually fell by as much as 3% as the company said the bad economy would negatively impact sales in 2012.
To accomplish her goals of transparency and execution, Whitman said that the company would stop making big acquisitions like its $10 billion purchase of Autonomy in August. Though Whitman repeatedly said she's "really excited" about that acquisition, she said HP wouldn't likely buy any companies that cost more than $500 million going forward.
Instead, Whitman said the company would make a greater investment internally into its own research and development.
"We cannot rely on acquisitions alone here at Hewlett-Packard," she noted. "It's just the wrong thing to do. We have a lot of R&D capability here. We can't just continue to run this company for the short term."
She also offered more clarity about HP's strategy, after she announced late last month that HP would hang onto its PC division.
During HP's last earnings announcement in August, then-CEO Leo Apotheker said that the company would consider spinning or selling off its PC unit, a decision that ultimately led to Apotheker's ouster and Meg Whitman's assumption of the chief executive role.
Whitman confessed on Monday that there has been a lot of confusion about HP's strategy as a result of the changes, noting that some customers thought the company was getting out of the hardware business entirely.
That's why Whitman opened the conference call with analysts by saying what she thinks HP is: "HP is the largest provider of IT infrastructure, software and solutions to individuals and businesses of all sizes. We're a leader in PCs, printers, servers, storage, automation, and services."
And for those that think HP is becoming a software company, she stated just the opposite.
"We're in software to bring value to customers not to transform HP into a software company."
By the numbers
The Palo Alto, Calif.-based company said sales fell 3% to $32.1 billion, still topping analysts' forecasts of $32 billion.
HP's net income for the fiscal fourth quarter, ended Oct. 31, fell 91% to $239 million.
Results included $2.2 billion in one-time charges, including $885 million in incentive programs to sell stock of its killed-off webOS devices like the TouchPad tablet. The tablet, which was initially offered at $499, was fire-sale priced at $99 after HP decided to stop producing the device in August following dreadful sales.
Without the charge, HP said it earned $2.4 billion, or $1.17 per share. Analysts polled by Thomson Reuters, who typically exclude one-time items from their estimates, forecasted earnings of $1.13 per share.
Last week, rival Dell (DELL, Fortune 500), the nation's second-largest PC maker, reported beefier profits but sales slumped.