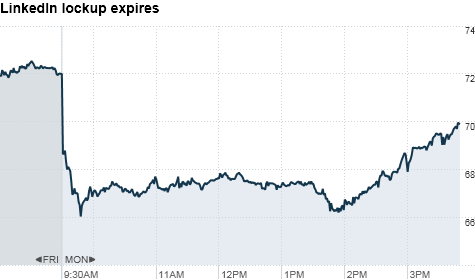 Click the chart for more on LinkedIn stock.
NEW YORK (CNNMoney) -- LinkedIn had a banner debut back in May, with shares nearly tripling in early trade and closing at more than double their initial price. But now the game has changed.
Monday marked the first day that some company insiders were allowed to dump LinkedIn's stock -- and shares were trading about 7% lower midday, to continue a sharply down week and month. Shares bounced back a bit in the afternoon, closing about 2.8% lower.
LinkedIn (LNKD) began trading on the New York Stock Exchange on May 19, and as part of the initial public offering, there was a typical 180-day "lockup" agreement for insiders. That provision prevented certain early investors from unloading their stakes until the end of the three-month period, which expired on Sunday.
It appears that some investors took advantage of this. Shares of LinkedIn fell 6.7% in late morning trade Monday.
The lockup expiration has been on investors' minds, as four company insiders have already said they are cashing out in a second offering of stock. Meanwhile, LinkedIn is selling 1.3 million of its own shares in that offering.
Those announcements don't inspire confidence in a stock that's been criticized for overvaluation since its IPO. LinkedIn shares are down almost 23% over the month, and 15% over the past week alone.
An announcement from early investor Bain Capital likely accelerated the recent sell-off. Last Tuesday, the private equity firm said it was selling its entire $275 million stake in LinkedIn.
Bain held more than 3.7 million shares of the company, or about 4.3% of its outstanding stock, according to a LinkedIn regulatory filing. Bain bought into LinkedIn in 2008 as the largest investor in a $53 million funding round -- and sold 653,000 shares in LinkedIn's IPO.
Three other LinkedIn investors are cashing out some of their shares: Co-founder Allen Blue, a venture capital firm run by German software giant SAP (SAP), and Arvind Rajan, the head of LinkedIn's international business. In total, those three investors are selling about 2.5 million shares.
But investors may be most spooked by the fact that LinkedIn is selling 1.3 million of its shares. Secondary offerings are sometimes considered ominous signs, as they can sometimes mean that expenditures have outpaced expectations and a company needs to raise more cash.
LinkedIn has not yet revealed the sale date. The company reported a small loss for the third quarter and according to consensus estimates from analysts, Wall Street expects another loss in the fourth quarter as well.
LinkedIn shares are still trading well above their IPO price of $45 -- but they're also well below the $94.25 closing price their first day on the market, and they're edging closer to the 52-week low of about $60 a share.
Of course, this post-lockup phenomenon isn't exclusive to LinkedIn -- and investors in other Internet companies that have recently gone public should take note ahead of their own lockup period expirations.
Internet radio company Pandora's (P) lockup period ends on December 12, and real estate Zillow's (Z) expires January 16. Groupon (GRPN), which debuted earlier this month, has a six-month lockup that ends May 2.