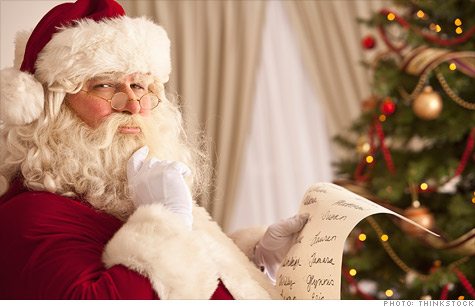 Consumer Reports names the best and worst companies in terms of shopping policies in its annual Naughty & Nice Holiday List.
NEW YORK (CNNMoney) -- While some companies had consumers' best interests in mind this year, others seemed to only have eyes for their bottom line.
In its annual "Naughty & Nice Holiday List" of companies, Consumer Reports' editors and writers examined the shopping policies of a wide range of companies and put together a list of 19 companies, including some well-known names as American Express (AXP, Fortune 500), Amazon (AMZN, Fortune 500), Southwest Airlines (LUV, Fortune 500) and Verizon Wireless (VZN), that either did right or wrong by customers in 2011.
Some of these companies received high marks for their customer service, by going beyond the call of duty and offering such things as double-your-money-back guarantees and last-minute refunds. However, other companies received demerits for charging nasty fees, putting not-so-friendly clauses in their return policies and hiding important details in the fine print.
Below are the companies that made Consumer Reports' annual list on customer service.
Who's Naughty: Fees, fees and more fees led Consumer Reports to add several big corporations to its "Naughty List" this year.
While it may have been hard to pick just two airlines to put on the list, given all the fees popping up in the industry, AirTran's policy of advertising ticket prices that don't include the actual price of the picking your seat took the cake. AirTran charges passengers a fee of $6 to $20 when they go online to make their seat selection, something most airlines offer for free. Southwest Airlines, meanwhile, charges an extra $10 per flight if customers want to select seats earlier than 24 hours before takeoff.
The fees don't stop there. Satellite radio provider SiriusXM Radio (SIRI) hits customers with a $2 monthly fee if they opt to receive a bill in the mail and pay by check instead of paying online.
Tour operator Liberty Travel advertises unbelievable deals, but hides hundreds of dollars in extra taxes and fees in the fine print, Consumer Reports found.
The Swiss Colony, a Wisconsin-based mail-order food company, charges delivery fees based on the dollar amount of an order instead of the weight of the item, which often results in higher shipping costs. In addition, the company charges a $2.99 fee for each shipping address, which it says is to cover the cost of a mailing label.
Besides the high fees, Consumer Reports also found that several companies on the "Naughty List" aren't very accommodating when it comes to their return policies. Computer and video game seller GameStop (GME, Fortune 500) makes it difficult for a customer to return any item, Consumer Reports said. While American Apparel (APP) was cited for having two different return policies for online and in-store customers. Online customers have 45 days to return an item while in-store shoppers only have 30 days.
Other companies singled out for bad consumer practices this year were RadioShack (RSH, Fortune 500) and Verizon Wireless. RadioShack charges different prices for the same item, depending on whether it's being sold online or at a Radio Shack branch.
And while Verizon Wireless claims to send over-the-limit alerts to customers well before they exceed their monthly minutes, messages or data, Consumer Reports said it discovered that the phone carrier sometimes waits to send these alerts until customers have already exceeded their monthly allotment.
"Verizon Wireless, in fact, helped lead the charge to create the new industry standards for customer usage alerts, most of which we currently meet or exceed," said Verizon Wireless spokesman Thomas Pica. He added that the carrier offers many tools and options that help customers monitor usage and manage their accounts.
Who's Nice: Most of the companies that made Consumer Reports' "Nice List" this year did so, because they offered better-than-average return policies or customer service.
Outdoor clothing retailer REI, for example, lets customers return or exchange purchases any time they want and for any reason, while Bi-Lo Supermarket gives customers a double-money-back guarantee on any item they purchase, and it doesn't matter why they return it. Live Nation, an online ticket portal for live entertainment, gives customers 72 hours to cancel ticket orders, and offers refunds up to a week before the event at many venues.
Costco (COST, Fortune 500) was also cited as having a lenient return policy. And in addition to automatically extending a manufacturer's warranty on TVs and computers to two years from the purchase date, the wholesale retailer offers free tech support for many electronics.
Strong customer service also landed a couple companies on the list this year. Orvis, a clothing and sporting goods store, initiates live chats with customers who view a product on its website for a long period of time, Consumer Reports said. Crutchfield, an electronics seller, provides customers with free installation, setup and around-the-clock support for as long as a customer owns the item.
American Express stood out this year because it refunds the price of certain items up to $300 if a customer purchased them with their American Express card and is unable to return the items to a store within 90 days. Meanwhile, the report said Microsoft gives customers refunds on software and hardware even if it has already been installed. Customers just have to send it back within 45 days, and Microsoft even reimburses shipping costs of up to $7.
While you may be surprised to see a cable company on the "nice" list, Consumer Reports found that Cablevision (CVC, Fortune 500) provides some neat perks to customers who sign up for its Optimum Triple Play package. These include discounts on movie tickets every day of the week, and free tickets on Tuesdays. After signing up for the company's free Optimum Rewards program, customers can also get discounts on popcorn and soda at select theaters.
Amazon.com received Consumer Reports' attention because it is helping customers avoid ordering items with wasteful packaging that makes items impossible to open. The retail giant lets customers submit photos of items with bad packaging so that manufacturers are encouraged to change their packaging. Companies with easy-to-open packaging can then submit their designs to Amazon to get a "Certified Frustration-Free" rating.