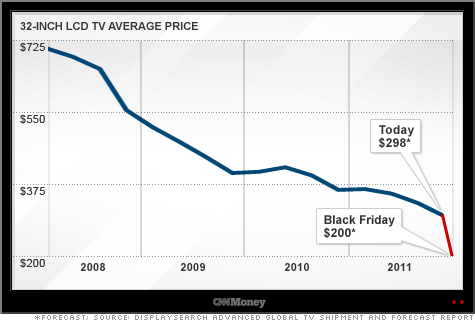 NEW YORK (CNNMoney) -- LCD TV prices will fall to their lowest levels of all time this Black Friday, as television manufacturers try to use bargains to revive struggling sales.
A combination of factors has eroded TV sales, including purse-string tightening amid a bad economy. Flat-screen HDTV sets are also reaching a point of saturation in the market, so sales have dwindled as fewer consumers need new TVs.
Another factor is that consumers have become savvier about when to buy expensive electronics, waiting until the prices are lowest -- Black Friday -- to make discretionary purchases.
"It's a self-fulfilling prophecy," said Paul Gagnon, director of TV research at DisplaySearch. "But this year, softer demand is really taking a toll. Set makers' profitability is pretty terrible right now, so there's lots of pressure to have a good holiday."
That means prices for LCD TV sets will hit rock bottom this holiday season, but especially on Black Friday.
DisplaySearch predicts that 32-inch LCD TVs will be offered at or below $200. Both 40- and 42-inch sets will be priced in a range of $200-$400, and 55- and 60-inch LCD TVs will be offered below $1,000 for the first time, with the cheapest big-screen TV sets priced as low as $600 on Black Friday.
Bargains for plasma screens, which tend to be more expensive than LCD TVs, will be good, but the discounts won't be nearly as extreme as those on LCD sets.
One caution for deal hunters: Manufacturers have become much more conservative in their inventories this year, reducing their orders for LCD panels as demand continued to slip. Factories that make TV sets were operating at just 70% this fall, IHS iSuppli said.
That means there aren't as many TV sets sitting on warehouse shelves as there had been in previous years. If prices really do lure in customers, retailers may run out of certain TV sets earlier than usual.
State of the TV industry: Weak
Unlike last year, when experts cautioned that the best deals would come after the holiday season, this year analysts don't expect prices to fall much farther.
The expected retail prices for Black Friday are pushing right up on the edge of what it costs the manufacturer the TV set, according to IHS iSuppli.
Retailers and TV set manufacturers had been hoping that new technologies like 3-D TV and "smart TV" sets with Internet connections would help boost demand, but so far those new features have failed to be strong selling points.
Just 11% of LCD TV sales are of sets with 3-D capabilities, though the expensive TVs did make up 27% of manufacturers' revenues this past quarter, according to DisplaySearch.
As a result, analysts don't expect retailers to strongly promote 3-D or smart TVs during the holidays. Instead, they'll be focused on ultra-low prices for basic big screen televisions.
That's why the market's new hope appears to rest with Apple (AAPL, Fortune 500). The company is believed by some to be gearing up to release a high-end TV set as its next Apple TV product, which experts say could help boost the industry.
"Apple has the opportunity to do for television what it has done for PCs and tablets -- offering something that's easy to use, works right out of the box and that delivers a compelling user interface that's unparalleled in the industry," said Randy Lawson, principal analyst, display and consumer electronics at IHS.