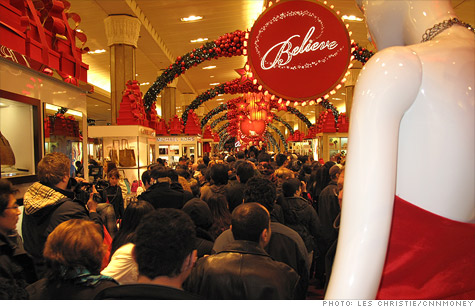 Shoppers mob the first floor at Macy's in New York's Herald Square in the first minutes of Black Friday.
NEW YORK (CNNMoney) -- Macy's first-ever midnight Thanksgiving opening for Black Friday drew a boisterous crowd -- and even a few protesters -- to its iconic flagship store on Herald Square in New York.
The shoppers began to gather in numbers by early Thursday evening and swelled to an estimated 10,000 just before the doors opened, according to Macy's spokesman Jim Sluzewski.
Good cheer was the rule, despite the hours-long wait to get in.
The buyers came eager to take advantage of deep discounts on clothing, appliances, perfume, jewelry and other goods, including some one-to-a-customer, while-supplies-last deals that promised to be gone by normal opening time.
The store was offering such deals as a free digital video camera with the purchase of $65 worth of fragrance; $199 diamond stud earrings set in white gold; and 40% off selected coffee and espresso makers and tea kettles.
One promotion involved a limited-edition fragrance gift set from Justin Bieber featuring his holiday CD and an exclusive bonus track.
The shoppers seemed glad to be there.
"[Black Friday] is a great holiday," said Keith Kaplan, a grad student at Columbia, who also works for Mashable, a social media news web site. "I love it. It's a fantastic way to boost the economy."
Kaplan didn't even mind the line. "It's good to meet new people," he said. "It's an adrenalin rush."
There were people from all over the world, led by large contingents from China, Western Europe and South America. Gift-buying was only one reason they came.
"We just want to see the madness first hand," said Terry Theo, who was in town from London for a week's vacation with his wife, Maria, and had waited on line for about two hours to witness this slice of Americana.
Many of the overseas visitors seemed to relish the outing more as an anthropological exercise than a buying opportunity.
Pauline Meyer from Switzerland, who was shopping for handbags, said, "We're here to see the event."
Henry Lin, visiting from Guangzhou, China, said, "I'm here to observe American culture -- and maybe, buy a coat."
There was a lot to see.
A group of three family members from Sweden -- Emma, Freda and Emil Askestad and their friend Jonathan Peduru-Aratchi -- stood on 34th Street as a small group of Occupy Wall Street demonstrators swung past chantng an anti-corporate message in their wake. There was a preacher condemning consumerism, hordes of journalists shooting videos and a phalanx of city police keeping the peace.
The Swedes took it all in before breezing inside in search of, mostly, clothes.
There were some serious shoppers, such as Mauricio Rosado and Rafaella Pinto from Brazil. Rosado, who owns a construction company, and Pinto, a law student, were looking for clothes, handbags, perfumes and watches. They were finding bargains compared with what they would spend back in Rio de Janeiro.
"The prices are very, very different here," said Rosado, "much better."
A group of four former high school classmates from the Shanghai American School, in town for a reunion, were in high spirits as they waited for the doors to open. They were more into the shopping than people watching.
"We're on a mission to buy clothes," said one, Eilidth Lindsay-Sinclair, who's now a student at Dalhousie University in Nova Scotia.
Stephanie Springer and her brother Zachary were a rare find in this crowd -- area residents. They live in Port Jervis, N.Y., about an hour and a half away. Stephanie, who's an accountant, said she planned to buy some clothes for herself and gifts for family and friends.
"I'm doing OK, and I plan on spending about the same amount for gifts this year that I spent last," she said.
When the doors opened at the stroke of 12, the crowds quickly funneled into Macy's, with the streams of people heading quickly for the escalators.
The shoppers were orderly but they looked very determined as they hit the sales floors en masse.