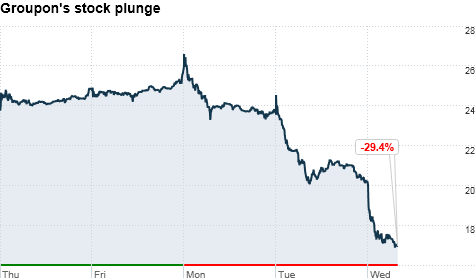 NEW YORK (CNNMoney) -- Today's daily deal: Groupon's stock.
Shares sank by more than 15% Wednesday to close at an all-time low of $16.97. That's several dollars below the $20 asking price of the coupon site's initial public offering earlier this month.
It's the third straight day of massive declines for Groupon (GRPN), with shares diving 10% on Monday and nearly 15% on Tuesday.
"The stock has been very weak this week, as investors have continuing concern about growing competition and Groupon's overall business fundamentals," said Ed Woo, analyst at Wedbush Securities.
Those fundamentals aren't pretty, and many analysts have been very critical of Groupon's business model -- or lack thereof. The company is losing money. Revenue growth is flat. High-profile executives have exited. Business owners have loudly complained that doing business with Groupon is unpleasant and not worthwhile. And the barriers to entry into the group coupon business are so low that Groupon needs to maintain an expensive marketing campaign to bring customers to its service instead of one of a dozen competitors.
If that weren't enough, since the moment Groupon filed its paperwork, it's been hit with criticism for unorthodox accounting measures. That led to several downward revisions of its financials, effectively cutting Groupon's reported sales in half, to $688 million for the first half of 2011, down from the $1.5 billion it claimed previously.
Despite strong negative sentiment about Groupon heading into its IPO, shares soared 30% above the $20 asking price on the stock's first day of trading, at one point topping $31 a share.
"Frankly, I'm surprised it did so well," Woo said. "Now, that negative sentiment is coming back as investors are focusing on the company's slowing growth and how it's losing a lot of money."
Amid a flurry of Internet IPOs, the market has started to cool.
Professional social network LinkedIn (LNKD) sank 4% Wednesday and is now trading at about half the value of its all-time high set in the summer, after the company announced it would hold a second stock offering. That's often an ominous signal, since it can be an indicator that the company is struggling to grow.
Small business review site Angie's List (ANGI) recently held its IPO, and shares tumbled 8% Wednesday. Shares of recently IPO-ed Pandora (P) plummeted 11% and Zillow (Z) fell by 1%.
The Internet IPO season isn't over. Yelp, another review service, announced its intentions last week to offer stock to the public in the near future.
But all eyes are pointed at social gaming company Zynga, which filed for an IPO in June and is lining up to begin trading soon. Zynga, which turned a profit of $31 million on sales of $829 million for the first nine months of this year, could get a massive valuation -- but looking at what's happening with Groupon, LinkedIn and its peers may give potential investors pause.
"Zynga is a different company with a different financial profile," said Woo. "But its valuation will take a hit because of the overall negative sentiment in the market."