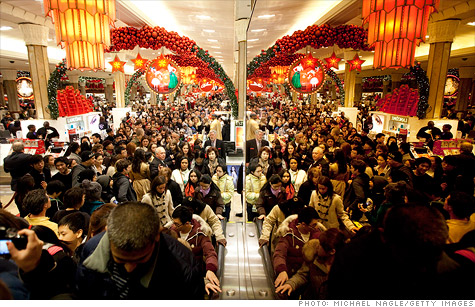 Shoppers jam Macy's flagship store in New York's Herald Square in the first minutes of Black Friday.
NEW YORK (CNNMoney) -- Larger -- and younger -- crowds jammed the nation's malls and big box stores on Black Friday, as a new generation got in on one of the biggest sales days of the year.
"Taking Black Friday into Thanksgiving Thursday has proven successful," said Tom Julian, president of Tom Julian Group, a retail consultancy in New York.
Due to earlier openings, the crowd at Columbia Mall in Grand Forks, N.D., was much bigger than in previous years -- and noticeably younger, too, according to Bill Reid, general manager.
Reid said shoppers made a beeline for fleece jackets at Victoria's Secret, a four-piece luggage set for $89.99 at JC Penney, and women's boots on sale for $19.99 at Macy's. "They were going like hotcakes and it was a disaster area," he said of the boots, which were entirely sold out within hours.
At the Herberger's in the Holiday Village Mall in Great Falls, Mont., the entire stock of comforters on sale for $19.97 sold out within an hour.
"This is the first year we've opened at midnight, and you almost couldn't get a parking space," said the mall's general manager Devin Hartley.
Along with bargain-basement goods, luxury stores at Woodbury Common Premium Outlets in New York were particularly popular, said spokeswoman Michele Rothstein. Lines formed outside of Coach (COH) and Gucci as early as 7 p.m. and deals such as an additional 50% everything at Cole Haan drew shoppers from all over, including a strong international contingent and even parents with strollers.
In addition to hordes of first-timers, were also hard-core Black Friday shoppers with carefully devised plans, Rothstein said. "One woman had a color coded map -- there was some pretty seriously strategic planning."
"I don't see a lot of browsing," added Jim Fielding, president of Disney Stores. This year's Black Friday shoppers are "more researched and more prepared, and very budget conscious," he said.
There were a few violent incidents across the country, including a report of gunfire at the Cross Creek Mall in Fayetteville, N.C. No injuries were reported, according to the Cumberland County Sheriff's Office.
In Myrtle Beach, S.C., police said two people suffered injuries in an apparent armed robbery attempt after they left a Walmart store around 1 a.m. Friday, and police arrested one man after a fight at a Walmart jewelry counter in Kissimmee, Fla.
In Porter Ranch, Calif., 15 people suffered minor injuries at another Walmart store when one customer used pepper spray in an apparent attempt to move people out of line, according to the Los Angeles City Fire Department.
"Overall, it has been a very safe event at the thousands of Walmart stores open on Black Friday. There were a few unfortunate incidents but overall we have received very positive feedback from our customers," Wal-Mart spokesman Greg Rossiter said in a statement.
At the neighboring Best Buy, shopper Joe Casillas, 29, said the crowds were rowdier than usual this year. "It would appear that the change of opening hours attracted a different crowd of people out to the store," he said.
Black Friday, the day after Thanksgiving, typically sets the tone for shopping throughout the holiday season. This year, retailers were eager to get a jump start on the day with earlier-than-ever openings. Toys R Us opened at 9 p.m. Thursday, followed by Wal-Mart (WMT, Fortune 500) at 10 p.m. Then, at midnight, Target (TGT, Fortune 500), Best Buy (BBY, Fortune 500), Macy's (M, Fortune 500) and Kohl's (KSS, Fortune 500) all opened their doors.
Despite some backlash against such early store openings on Thanksgiving Day, the move seemed to pay off.
"Early morning openings appear to have been well worth it for both retailers and holiday shoppers," Matthew Shay, president and CEO of industry trade group the National Retail Federation said in a statement.
At some Target stores, lines were more than twice as long as last year, according to the company. Men's Angry Birds pajamas were one of the biggest sellers, along with televisions, game systems and cameras, spokeswoman Kristy Welker said.
Lines at Sears (SHLD, Fortune 500) and Kmart were also longer than last year, according to Tom Aiello, a spokesman for the company. "A majority of those customers made a beeline toward consumer electronics," he said. One shopper, excited to score a Sony (SNE) PS3 package still in stock, hugged and kissed the closest Sears associate, Aiello added.
Before its opening, an estimated 10,000 people waited outside Macy's flagship store on Herald Square in New York, according to Macy's spokesman Jim Sluzewski.
At the Toys R Us flagship store in Times Square a line stretched down the block, mostly for deals on video games like "Call of Duty."
"The lines were long at stores all over the country, there was almost a celebratory atmosphere," said Toys R Us CEO Gerald Storch.
A $199.99 sale for a 42-inch Sharp LCD TV was a popular favorite at Best Buy, where some eager deal-hunters even camped out days in advance.
Some 23% of Americans say they plan to go shopping on Black Friday, up from prior years, according to a CNN/ORC International poll.
Altogether, an estimated 152 million people are expected to shop over Black Friday weekend, up 10% from last year, according to a recent report from the National Retail Federation. The largest majority of those shoppers are expected to be 18 to 24, the NRF said.
And even that generous estimate is likely to fall short of the actual number, noted Kathy Grannis, an NRF spokeswoman. Last year, the organization estimated there would be 138 million shoppers over the long weekend, when 212 million actually showed up -- a record high.
NRF estimates that holiday sales will increase 2.8% this year to $465 billion.
For those who are sitting this one out, more online deals will roll out on Cyber Monday. Eight-in-10 online retailers will have special promotions then, according to the survey by Shop.org, an online division of the industry group the National Retail Federation.
CNNMoney writers Annalyn Censky, Les Christie and Aaron Smith, and CNN's Scott Thompson and Melanie Whitley contributed to this story.