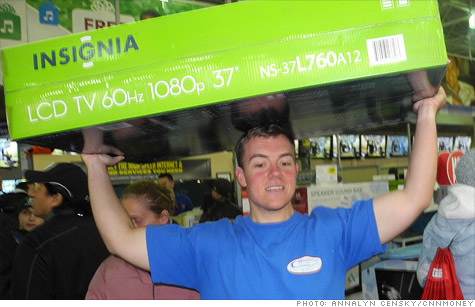 As soon as the doors opened at midnight for Black Friday, Best Buy shoppers rushed for doorbuster deals on LCD TVs.
WOODLAND PARK, N.J. (CNNMoney) -- Doorbuster deals on LCD televisions drew crowds of Black Friday shoppers to big box stores on Thanksgiving evening.
And for Isabel Baez, the wait outside a Best Buy (BBY, Fortune 500) in northern New Jersey, started long earlier. At 11 a.m. on Wednesday, to be exact.
"I had my tent, my sleeping bag and a book, and I just got in and held down the reins," Baez said. "The main thing is to just have fun. Just enjoy yourself, be early, and don't be stressed if someone is before you in line. You'll get what you want."
An hour before Best Buy opened at midnight, just as Black Friday began, the line stretched not only around the entire building, but through the parking lot as well. Nearby, porta-potties were set up for the overnight campers, and police patrolled the area.
The store handed out maps and tickets to the first shoppers in line, who were there mainly for deals on TVs, gaming systems and tablets.
A $199.99 sale for a 42-inch Sharp LCD TV was a popular favorite. Prepared to spend $3,000 that night, Baez planned to buy not one of those, but also a second TV, three tablets and a laptop.
Down the street at Target (TGT, Fortune 500), crowds also gathered long before the store's midnight opening. The first people in line were hoping to snag a 46-inch Westinghouse LCD TV for $298.
Jeanette Bessinger from Clifton, N.J., didn't even eat Thanksgiving dinner. Sandwiches would have to do instead. She got to the store around 6 a.m. on Thursday, prepared with a folding chair and two blankets.
"I had a map a month in advance," said Bessinger, who has shopped on Black Friday for the last eight years. "Make sure you bring food and wherever your stay, make sure there's a bathroom close."
While waiting in line, she was also shopping online via her smartphone.
"I already bought a pot and pan set, and a new curling iron," she said. "Shop while you're in line. Everything's free shipping."
She was planning on buying two TVs in the store, as well as more stocking stuffers.
Independent analysts predict LCD TV prices are at their lowest levels of all time this Black Friday, as television manufacturers try to use bargains to revive struggling sales. And unlike last year, when experts cautioned that the best deals would come after the holiday season, analysts don't expect prices to fall much further this year.
About a half hour after the Best Buy store opened, Nelson Verges Fuentes was already precariously balancing four TVs on his cart in the check-out line.
"This is a special occasion," he said. "We're giving TVs to our nieces and nephews for Christmas."
Planning to spend about $1,000 that night between himself and his mother-in-law, he said he was disappointed he had to cut back his holiday spending after his employer cut his pay 10% earlier this year.
"Economically, I'm feeling the strain," he said. "That's what makes you want to plan ahead and do this."
An estimated 152 million people are expected to shop over Black Friday weekend, up 10% from last year, according to a recent report from industry trade group the National Retail Federation.