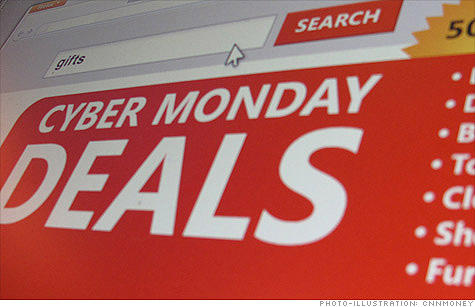 NEW YORK (CNNMoney) -- Did you skip the lines on Black Friday? There's still Cyber Monday -- and analysts are expecting an abundance of deals to bring in record online sales this year.
Andrew Lipsman, an industry analyst at data tracking firm ComScore, said sales for the one-day shopping event are projected to hit a record $1.2 billion this year.
Almost every major retailer plans on taking advantage of the hottest day to shop online. According to the Shop.org's eHoliday survey, eight out of 10 online retailers will offer promotions on Cyber Monday.
But the deals aren't just limited to Monday. Ahead of the big day, more than 90% of online merchants will be offering promotions over Thanksgiving weekend.
A survey by comparison shopping site PriceGrabber found that 39% of consumers who plan to shop over the four-day Thanksgiving weekend said they intended to do so on Cyber Monday. That's up 2 percentage points from last year.
It's a trend analysts are calling "couch commerce" -- more people want to spend money online from the comfort of their homes rather than head out to the shops.
Lelah Manz, chief strategist of commerce at Akamai (AKAM), cited the rise of tablet computers in the last year as a major game-changer in e-commerce.
"If you think about when the concept of Cyber Monday was first born, it was a time when people had dial-up access at home -- it was the office place or the workplace where they could access sites," Manz said. "Now everyone has broadband access. People have tablets, they're able to get online earlier and at home, and retailers are trying to capture that mind share."
According to an IBM (IBM, Fortune 500) Coremetrics report, 15% of web traffic in the U.S. in November will stem from smart phones and tablets rather than PC's. In order to tap into that traffic, retailers are rolling out the deals early this year, said Manz.
As valuable ad space is snatched up by major retailers on Black Friday and Cyber Monday, mid-sized retailers are leaking deals ahead of Cyber Monday to get their place in the spotlight too, said Graham Jones, General Manager of PriceGrabber.
"What we saw last year -- a lot of the medium size retailers, they didn't get in front of the consumers, so they are the ones leaking the deals earlier," Jones said. "The earlier these deals are coming out is a function of the retailers not wanting to be squeezed out of the limelight."
But don't expect the online deals ahead of Cyber Monday to impact the big day. According to a Shop.org survey, nearly 60% of workers will go online to shop for holiday gifts at work, and many of the retailers are waiting for Monday to push out some of the best promotions.
"Consumers have come to expect the absolute best online holiday deals on Cyber Monday," Pam Goodfellow, BIGresearch Consumer Insights Director, said in a release. BIGresearch is a marketing research firm that conducts surveys for the industry trade group National Retail Federation.
Online companies are still placing big bets on Cyber Monday and taking steps to prep for a day when online traffic is expected to spike. OpenSky, an online shopping platform that offers products curated by various celebrities and influential people -- from chef Tom Colicchio to fashion designer Cynthia Rowley -- has been ramping up efforts to make sure the site runs smoothly.
"We're expecting our biggest day ever - we have 10,000 new people joining OpenSky every day and we expect sales to be five times our largest day," said OpenSky Founder John Caplan. "We've made improvements to the site to make it run faster. We've added additional shipping options, gift wrapping, customer service staff and have all hands on deck from now through the holiday."
The company also plans to announce lifestyle guru Martha Stewart as a curator on the site - a move the six-month-old company hopes will boost interest in the biggest online shopping day of the year.