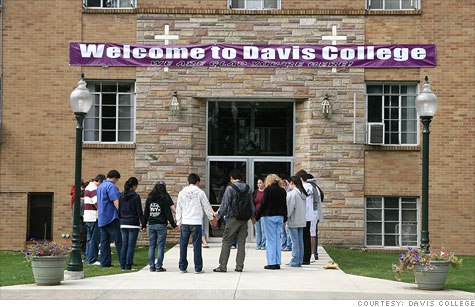 Davis College, a christian school, cut tuition by up to 22% for the current school year.
NEW YORK (CNNMoney) -- With church membership dwindling and more families struggling to afford the cost of college, many private religiously-affiliated colleges and universities are slashing tuition and offering incentives to attract new students -- and to stay afloat.
Some Christian colleges are cutting tuition by double-digit percentages, while others are capping the price of admission for all four years or offering huge discounts based on academic performance.
Brewton-Parker College, a 4-year Bible study school in southeast Georgia, cut its tuition by 22% to $12,290 a year for the current school year to "to offer a quality Christian education to more students." Enrollment has fallen to 778 students in recent years. The school wouldn't say how high enrollment was in the past, but things are looking dire.
To afford the tuition cuts, the college has had to make sizable cost cuts, including reducing its workweek to four days from five in order to save on operations and staffing.
"Brewton-Parker, like many other Christian-affiliated schools, is private and we have to have new students coming in," college president Mike Simoneaux said. "We recognize that in order to stay competitive we had to find ways to lower our tuition and not our quality."
It's a trend seen among religiously-affiliated colleges across the nation, both big and small. Duquesne University, the largest Catholic university in Pennsylvania with 5,858 undergraduates, is reducing tuition by 50% for students who enroll in its School of Education in 2012. Seton Hall University, a 4-year private Catholic school in South Orange, N.J., is chopping tuition by 61% for applicants who meet certain academic qualifications. And Cabrini College, another Catholic school in Pennsylvania, plans to cut tuition by 12.5% next year and cap it at that level through 2014.
Of the more than 1,600 small private nonprofit institutions for higher education in the United States (which have an average enrollment of 1,900 students), two-thirds have a faith or religious affiliation, many of which are linked to Christian denominations. And while the economy is affecting most schools of this size, faith-based institutions are in the toughest spot.
By keeping tuition as low as possible -- with some schools reducing the amount of financial aid they are doling out at the same time to make this possible -- these schools are taking potential hits to profits as they try to enroll more students, said John Nelson, a managing director at Moody's, which rates the credit worthiness of universities.
The true cost of a faith-based education
One of the biggest issues facing these schools is their value proposition. Some incoming students fear their job and/or earning prospects will be limited should they graduate from a religiously-affiliated school.
In order to appeal to a wider group of students, many of these institutions are removing the "Christian" or "Bible" from their names. Johnson Bible College, in Knoxville, Tenn., for example, changed its name to "Johnson University" earlier this year to "eliminate barriers that our students and graduates often face," the college's president Gary Weedman said in a statement on the school's website.
Meanwhile, other schools are trying to make it easier for students to pursue lower-paying religiously-affiliated vocations post-graduation without being weighed down by student loans.
Davis College, an evangelical Christian school founded in 1900, said it recently reduced tuition for the current year by up to 22% for this reason.
"As a college of Bible and ministry, our niche is preparing students for service vocations that are often in the lower pay range," said Chief Enrollment Officer Rick Cramer. "We were disturbed to find that some of our graduates were not going directly into ministry simply because they felt the need to pay off their loans first."
Cramer said the tuition cut has helped the school retain current students. Now he's hoping it will significantly boost enrollment -- and help the school avoid the same fate as other Bible colleges that have been forced to close their doors.
"We need to attract more incoming students into that ministry development pipeline so that we can continue to impact the world for another 100 years," he said.
Recent tuition cuts have not only been limited to Christian schools. Beis Medrash Heichal Dovid, a Jewish rabbinical school in Far Rockaway, N.Y., slashed tuition by more than 20% for the current school year, while Rabbinical College of Telshe, in Wickliffe, Ohio, cut tuition about 7% for the previous school year, according to the most recent data the colleges reported to College Board.
"These decisions are being driven by mission and the marketplace," said Tony Pals, spokesman for the National Association of Independent Colleges and Universities. "Private institutions share a commitment, often based in faith or religious tradition, to providing opportunity to students regardless of their economic background. At the same time, the economic downturn has focused students and parents more than ever on affordability and educational value."
A shrinking customer base
But perhaps one of the most pressing issues is that there are fewer prospective students for these schools to recruit. Religious membership has been on the decline, especially among young people.
The percentage of American adults who identified as Christians fell from 86% in 1990 to 76% in 2008, according to the American Religious Identification Survey conducted by Trinity College.
About 26% of Americans ages 18 to 29 say they are unaffiliated with any denomination, according to a generation gap survey conducted by Pew Research this year. That compares with just 13% of Baby Boomers who said they were unaffiliated with a religion when they were ages 18 to 29.
"It used to be you could run these colleges very, very simply with a little capital investment because you had enough students to attend purely because of religion," said Nelson. "But when they're suffering a decline in students because a religion is stagnating or declining, they have to do something drastic to attract students."
But these drastic moves come with risks. Lower tuition is unsustainable if it doesn't bring in more paying students, said Nelson.
This could result in many private religious colleges and universities going out of business or merging with larger schools, a trend that has become increasingly common over the past couple of years, he said.
Bethany University, a Bible College in Scotts Valley, Calif., for example, closed up shop this year after 92 years in business. Pillsbury Baptist Bible College, in Owatonna, Minn. closed in 2008 after being open for 134 years, and Dana College, in Omaha, Neb., closed last year after 126 years. Magnolia Bible College, in Kosciusko, Miss., at just 33 years old, closed its doors in 2009.
"So many of these religiously-affiliated schools are too small for today's market," said Nelson. "There are a lot of tactics you can take to keep a college going, but you can't do that forever -- eventually the college has to reach a sustainable level on its own."