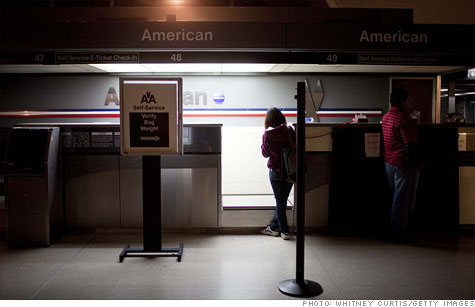 NEW YORK (CNNMoney) -- As the holiday travel season kicks into high gear, American Airlines' CEO says it will be "business as usual" for passengers, despite filing for bankruptcy.
American Airlines' parent company, AMR Corp. (AMR, Fortune 500), announced Tuesday that it has filed for Chapter 11 bankruptcy. But AMR said American Airlines, American Eagle and all other subsidiaries will honor all tickets and reservations and operate normal flight schedules during the bankruptcy.
For ticket holders, "our schedule will continue, our flights will continue to operate. It is very much business as usual," said Thomas Horton, chairman and CEO.
In a letter to AAdvantage members, Maya Leibman, president of the AAdvantage Loyalty Program, said "the AAdvantage miles that you've earned are yours and will stay yours, subject to usual policies, until you choose to redeem them."
"Consumers who hold AA frequent flyer miles should know that their miles are safe for now," added George Hobica, air travel expert and president of Airfarewatchdog.com. In fact, in past Chapter 11 filings, in order to lure passengers back, airlines have even increased award seat availability or offered double miles promotions, he said.
For travelers looking to buy tickets, AMR's bankruptcy could also result in lower ticket prices after the holidays, added Rick Seaney, CEO of Farecompare.com.
"The big issue here is competition," he said. "If people decide not to buy tickets, this could actually drive down ticket prices after the holidays, mainly because of [decreased] demand."
That decreased demand could also result in lower ticket prices among American's competitors, too, Seaney said. "Airlines live by a motto, never be one dollar more than your competitors."
But don't expect those cheaper flights to last much longer than the short term, he said. "We've seen this happen with Delta and United before and there was limited impact," Seaney said.
In fact, most major carriers -- US Airways, United (UAL, Fortune 500), Northwest and Delta (DAL, Fortune 500) -- have filed for Chapter 11 protection in the last decade.
In the long term, AMR will likely reduce the number of flights or routes to certain cities, which will cause ticket prices to rise once again.
"I predict they'll try to get rid of some routes that are not profitable," said John Schneider, a Boston-based bankruptcy attorney.
In that case, Anne Banas, executive editor for travel advice site SmarterTravel.com, advises travelers to check their flight status a day or two in advance. "You just want to be the first in line if anything changes."
--CNN Radio's Matt Cherry contributed to this story.