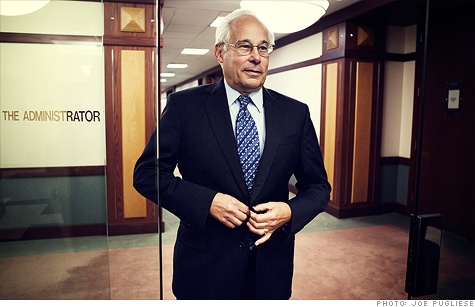 Everybody's talking about making health care less expensive. But to do that, says departing Medicare chief Donald Berwick, first it has to get better.
(MONEY Magazine) -- As administrator of Medicare and Medicaid, Donald Berwick has been in charge of paying for the health care of nearly one in three Americans. He has also had an important role in implementing last year's health reform law, which uses the Medicare system as a big lever to change how doctors and hospitals do business, in hopes of containing costs.
Before taking the job -- which he left in early December -- the Harvard-trained pediatrician was a leading advocate for quality and patient safety, and often a blunt critic of our health system.
Berwick's nomination faced opposition from conservatives who focused on, among other things, his praise of government-run British health care. Instead of being confirmed by the Senate, Berwick was given a temporary "recess" appointment by President Obama, which was scheduled to run out this year.
He spoke to MONEY writer Amanda Gengler in October, as a special congressional committee was debating cuts to Medicare and Medicaid; the interview has been edited.
Long before you took over Medicare and Medicaid, you described the health care system as "unraveling." What did you mean by that?
We have in some sense a miraculous health care system.
When I was training as a young pediatrician, many children died of diseases curable today. We now treat heart attacks in a completely different way, and mortality rates have been cut in half.
But along with that have come problems: Injuries from care are very common; patients get complications from their surgery; they get infections in hospitals; medications get mixed up. One out of every six people who go into a hospital gets a complication from the care, not from the disease.
Sounds like a hospital can be a dangerous or unfriendly place.
Doctors and nurses and people who run hospitals are trying every day to make them patient-centered and safe. But we've built the system in fragments. Everybody does their own piece, but if you have diabetes or congestive heart failure, your journey among these fragments doesn't always go well and that's very, very costly. A lot of the cost is waste that comes when things go wrong.
But name a problem, and I'll find a hospital knocking the socks off of it. The challenge is to do it everywhere.
How is Medicare attacking rising costs?
Our approach is in three areas.
There's acute care of people when they're sick. That's where patient safety appears. How do we keep from injuring you in the hospital? Thanks to a $1 billion investment from the health reform law, we're beginning a program to teach thousands of hospitals how to adopt the best practices.
Second is seamless care. For example, not just paying hospitals to put in an artificial hip but also for the next 90 days, so they focus on complications and rehabilitation. We're paying them for the whole episode. [Note: Such "bundled" payments are still a demonstration project within Medicare.]
The third area is prevention. For example, in the new law there's an annual wellness visit.
When the Congressional Budget Office evaluated the health reform law, it didn't attribute many savings to such measures.
The CBO's rules for scoring are very stringent. But those of us who give care know that in the longer run we can see much more savings as we learn our way into better systems.
When you don't have a coordinated system, you get your X-ray taken twice because your specialist and primary care doctor don't have a way to share your X-ray. It's tens of thousands of dollars in extra cost when somebody gets a hospital infection.
Up to a third of Medicare spending is on people in the last year of life. Can anything be done to limit costs there?
We have to leave that to doctors and patients. I really honor the encounter between the physician and the individual. I don't think we have a role in getting in the middle. When care is given correctly, costs fall whether you're a child, middle-age, or late in life.
But this is where people get nervous about cost control -- that it will lead to some hard-hearted decisions affecting those in their last months.
I think that's vastly misunderstood. Better care is lower-cost care, and lower-cost care is better care. This is not about withholding care.
Send The Help Desk your questions.
There are people out there, unfortunately, who are arguing that we have to cut back, withhold, and harm people by keeping care from them. I'm not one of them.
One idea Medicare is trying is accountable care organizations, or ACOs, which are rolling out next year. How will they work?
Better care will happen when someone has your back, a doctor or a nurse or maybe a group of doctors who say, "Here's my phone number. If you get confused, call me. If you go see a specialist, I'll know. If you are on a medicine, I will know what medicine you're on."
Your doctor may decide to join an ACO. That means he or she will become part of a group of providers who declare they will take care of you. If they actually lower costs [for the patients in the ACO], they'll get a share of the savings. But you're not limited to doctors in that ACO.
If doctors share in savings, wouldn't that give them an incentive to skimp on care?
We're measuring ACOs' quality really carefully, because we don't want them skimping. We have over 30 measures ACOs will have to report, and we'll survey patients.
Do you think patients should have more "skin in the game" [as many reform plans propose]? That is, should they pay for more of their care directly so that they'll use less?
People already have financial skin in the game because of co-payments and deductibles. I don't really understand how shifting costs to patients would work.
People don't use health care as a recreational device. They go there because they're in pain and want relief. Who wants to be in a hospital bed or taking medicine or having surgery they don't need?
You've been heavily criticized for praising Britain's system [in which the government pays for most care.]
The solution to America's health care problem is going to be an American solution. Am I curious and do I encourage us to be curious about what other countries are doing? Absolutely.
What will you do when your appointment ends? And do you think those earlier comments cost you confirmation?
It's a hard job and my focus has just been doing the work before me and being thankful that I have a chance to do it. I'm not thinking about anything but that, and I have no regrets at all.