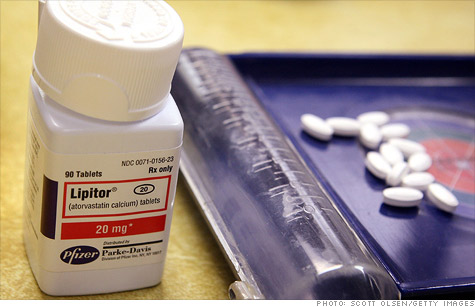 Pfizer loses patent exclusivity for its blockbuster statin Lipitor on Wednesday, dramatically reducing prices for patients.
NEW YORK (CNNMoney) -- The blockbuster drug Lipitor went generic Wednesday, likely costing its maker billions of dollars in sales, but saving its users a nice sum in their fight against cholesterol.
"The patients are the winners here," said Bob Billings, executive director of the Generic Pharmaceutical Association.
The cholesterol-cutting drug has long served as the top earner for Pfizer (PFE, Fortune 500), whose Lipitor sales peaked at nearly $13 billion in 2006.
There are 3 million Americans currently taking the drug, according to Pfizer, and all of them stand to save significant amounts of money.
"Out-of-pocket consumers -- which are 10% of consumers -- are going to see prices cut in half," said Billings, noting that monthly costs for the drug can run into the hundreds of dollars.
Insured patients, who make up the majority of patients, will also see a big difference, he said, estimating that their copays will drop from a monthly range of $30 to $35 to as low as $5 to $7.
Six months from now, when the cholesterol-cutting drug is open to all generic manufacturers, the price will drop even more dramatically, Billings said.
For now, two generic manufacturers are producing atorvastatin, the non-branded form of Lipitor.
The Indian drug maker Ranbaxy won the legal battle to own exclusive independent production rights to produce generic atorvastatin.
Once Ranbaxy's 180-day exclusivity expires, other generic drugmakers such as Mylan Inc. (MYL, Fortune 500) of Pittsburgh, Teva Pharmaceutical Industries (TEVA) of Israel and Apotex of Canada could get into the act, driving down the price still further.
Ranbaxy's exclusivity fell into murky territory earlier this year, when the Food and Drug Administration accused Ranbaxy of "a pattern of systemic fraudulent conduct" such as fabricating data and taking shortcuts in quality tests.
A Ranbaxy representative did not immediately return a message from CNNMoney about how the FDA's accusations might affect its production of atorvastatin. FDA spokeswoman Sandy Walsh declined to comment.
But another generic maker, Watson Pharmaceuticals (WPI) of Parsippany, N.J., has a deal with Pfizer -- which, of course, still holds rights to the drug -- to sell the statin at a price competitive with other generics. Pfizer will get a cut of the sales as part of the deal, which runs through 2016.
As part of the Watson agreement, Pfizer is now offering $4 copay cards in a program called "Lipitor for You" to compete with low-cost generics.
Pfizer has known about Lipitor's impending patent expiration for many years, and engaged in cost-cutting and absorbed the drugmaker Wyeth as it prepared for the big day.
This isn't the first time Pfizer's Lipitor has competed with generics. Lipitor's sales fell from their peak in 2006 because that's the year that Merck's (MRK, Fortune 500) cholesterol-fighting statin Zocor went generic.
Zocor, also known by its generic name simvastatin, is not identical to Lipitor, but is similar enough to have taken a bite out of Pfizer's sales.
In the most recent 12 months, Lipitor sales totaled $7.8 billion, about 60% of the 2006 peak.