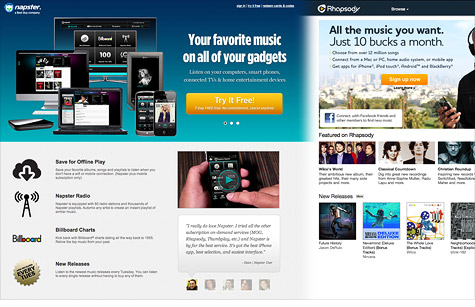 Napster will be swallowed by Rhapsody on Dec. 1.
NEW YORK (CNNMoney) -- Napster, the music-industry scourge that blazed a trail that led to modern digital music services, is about to head off into its final good night.
On Thursday, Napster will be merged officially with Rhapsody, the largest on-demand music service in the U.S.
Rhapsody announced last month that it had struck a deal with Best Buy to purchase Napster subscribers and other assets in a bid to boost its user base. As part of the deal, Best Buy (BBY, Fortune 500) -- which acquired Napster in 2008 for $121 million -- will receive a minority stake in Rhapsody.
Financial terms of the Rhapsody deal were not disclosed, but the merger is expected to be finalized on Wednesday.
It's the end of a tumultuous road for Napster, a controversial but iconic site that has blinked in and out of existence over the past decade.
Napster launched in 1999 as a peer-to-peer file-sharing service tailored for swapping music files. It quickly became a hotbed of copyright infringement, and it survived only two years before it was shut down by court order. During that time, the Recording Industry Association of America and other trade groups railed against Napster -- and filed hundreds of lawsuits against users who downloaded content illegally.
A lawsuit eventually took down Napster, but "the Napster effect" rippled through the music industry even after the file-sharing ceased.
The fracas highlighted a supply-and-demand disconnect: Consumers were fed up with paying $20 for a CD when what they really wanted was only one or two songs. They also demanded an easy, inexpensive way to get digital tracks -- and made clear that if the music industry wouldn't provide one, they'd go the illegal route.
It took several more years to cobble together a solution that worked for both sides. Shaken by Napster, the music industry grudgingly accepted that it had to change -- and out of the ashes came services like Apple's 99-cent-a-song iTunes.
It also cleared the way for streaming services like Rhapsody, which lets users download as many songs as they like for $10 a month. Founded in 2001, Rhapsody now has around 800,000 subscribers.
But Rhapsody is now being outshined by Spotify, a European-based rival with a similar business model that recently launched in the U.S. to tons of buzz.
At a tech conference in October, Napster co-founded Sean Parker reflected on the massive changes the music industry has undergone in the 12 years since Napster launched. He sees the field as having finally come full circle.
"Spotify is an attempt to finish what I started at Napster," said Parker, who is a Spotify investor and sits on the company's board.