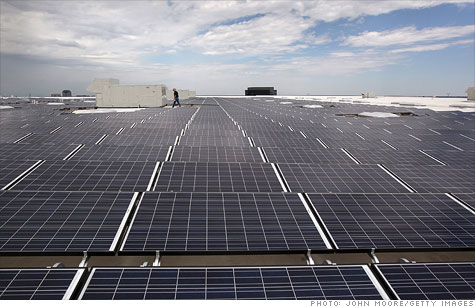 Slack demand for solar panels combined with falling prices will likely mean many more solar power bankruptcies for the energy sector.
NEW YORK (CNNMoney) -- The once high-flying solar power sector is headed for tough times, as a combination of slack demand and massive oversupply is leading to plummeting prices and profits for solar panel makers.
The past year was already grim. The Guggenheim Solar (TAN) exchange-traded fund is down 60% since January and sits even lower than it did following the crash in 2008.
Two high profile companies have gone bankrupt in the United States -- government-backed Solyndra and Evergreen -- and analysts anticipate more failures ahead.
"Solyndra was just the beginning," said Jessie Pichel, head of clean energy research at the investment bank Jefferies & Co. "We're going to see a lot of companies go bankrupt."
Just how many? Of the few hundred or so solar panel makers worldwide, just 20 to 40 are expected to remain standing in a few years time, said Mark Bachman, a renewables analyst at Avian Securities.
This isn't necessarily a bad thing for solar power. Bachman noted that many young industries go through this phase -- think of all the auto makers at the beginning of the last century or television makers 40 years ago. As the market matures, the stronger companies survive.
And there's an upside to declining prices: It means more people are likely to go solar.
But the next couple of years will be wrenching for companies and investors in the solar power space as the weaker players go bust or get bought by larger rivals.
The fall: In some ways, the bust was inevitable. For much of the last decade solar power worldwide saw annual growth rates in the double or even triple digits.
Those tantalizing numbers led to massive over-investment. Stock valuations for publicly traded companies soared, as did state support from the Chinese government, which saw solar power as a growth industry and a way to curb rising pollution.
Both of these things led to a massive amount of available capital. Factories were built and production capacity mushroomed.
But just as all these new solar panels were making their way to market, the debit crisis hit in Europe. The generous subsidies offered to solar power by European governments and utilities were cut. Demand for solar panels fell.
Plus, solar project developers were having a hard time getting credit to build new power plants, further cutting into demand. Prices for solar panels began falling rapidly.
A year ago solar panels were selling for $1.50 to $2 per watt, said Ramesh Misra, a senior analyst at Brigantine Advisors, a research outfit. Now they sell for half that, and the decline hasn't stopped.
For solar power developers, even if they have the money and subsidies lined up, there's every incentive to wait.
"The solar investors think they can get a better price next week than this week," said Avian's Bachman. "No one wants to move."
So inventories build up, companies sell panels at below-market rates just to move product, and the downward spiral continues.
The shakeout: What has to happen to turn things around?
Better access to credit, a more stable subsidy policy and fewer solar panels on the market, analysts say. Fewer panels means fewer solar panel makers.
Many analysts say it's the top-tier solar producers that have the technology and name recognition to come out on top. Those include The United States' Sunpower (SPWR) and First Solar (FSLR), as well as China's Yingli (YGE), Trina (TSL) and Jinkosolar (JKS).
Yet other analysts think it's the Chinese firms that sell unbranded solar panels that will prevail. These firms have often benefited from government support that includes massive low-interest loans.
These companies have also been accused of selling solar panels below cost, most recently in a trade dispute filed with the U.S. Commerce Department on behalf of some publicly traded solar panel makers.
"It has poisoned the profit pool," said Hari Chandra, a cleantech analyst at the investment bank Auriga.
Chandra thinks there's no way the publicly traded firms can compete with the generic Chinese companies, given their backing by the Chinese government.
"You're not competing with Chinese companies," he said. "You're competing with China sovereign."