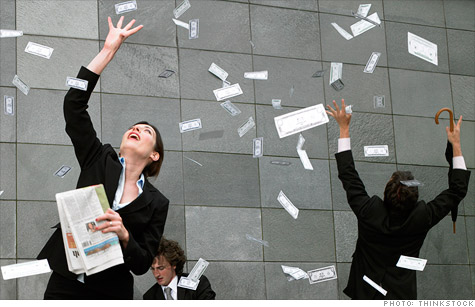 Sensing hard times ahead, a growing number of tech startups are looking to be acquired.
NEW YORK (CNNMoney) -- There's essentially three options for a tech venture outgrowing its startup days: Get big, get bought or go broke. Sensing hard times ahead, a growing number of entrepreneurs are casting around for suitors and a shot at door #2.
"There are a lot of companies out there right now trying to put themselves on the market," says Milo founder Jack Abraham, who sold his shopping services site to eBay last year for a reported $75 million. "I get introductions to a lot of founders recently asking for 'advice' on the process."
EBay took down another closely watched startup last week: Hunch, a predictive analytics recommendations engine. Hunch said its entire staff will join eBay (EBAY, Fortune 500) and remain based in New York City.
Industry observers say it's a smart buy for eBay, which is always looking for better technology for nudging site visitors toward other products they might wish to purchase. But it's also a good ending for Hunch, which launched in late 2008 and changed directions several times in the years since.
By year two or three, entrepreneurs often start feeling the pressure to get acquired: It's time to get profitable or get an exit plan. The frothy tech environment is adding fuel to the fire. Thousands of tech companies have taken cash from investors this year alone -- and they can't all survive.
There's growing mindset among tech founders: "If we're not going to be number one of this space, we should sell while times are good," says one entrepreneur, whose own company is struggling to break out in a crowded niche.
Paul Lee, a partner in venture capital firm Lightbank, says that "wacky" valuations are accelerating the trend.
"We're seeing pre-revenue, pre-product companies get $10 million valuations," he said. "It's an incentive to sell if companies aren't doing well. You need to achieve a lot in order to justify that valuation."
One of the latest examples of a startup shopping for a deal is location sharing app Gowalla.
Launched in 2009, the Austin-based company went head-to-head with direct rival Foursquare -- and lost. Badly trailing Foursquare in user adoption, Gowalla recently shifted directions, recasting itself as a travel guide. It is now in talks with a number of companies -- ranging from Groupon to Google (GOOG, Fortune 500) -- about selling itself, according to multiple sources familiar with the discussions.
Gowalla did not respond to CNNMoney's request for comment.
Like a game of musical chairs, timing is everything in takeover talks.
Hunch's acquisition, for a sale price rumored to be around $80 million, is the kind of deal investors call a base hit. Hunch had raised around $20 million over the years, which means most investors are likely to turn a profit on the deal.
Hunch co-founder Chris Dixon declined to discuss the acquisition, directing all queries to eBay's PR team. "We'll be tackling all kinds of interesting challenges as part of eBay," Dixon wrote in a blog post announcing the deal. "We can't wait to get started."
But on the flip side, there's a growing list of takeover deals that read more like cautionary tales.
Take SimpleGeo, a location technology startup that was once viewed as one of the hottest in the space. It raised more than $8 million last year, taking its total investment to $10 million. Fast forward to its sale price late month: An estimated $3.5 million in an all-stock deal, according to tech blog Uncrunched.
Co-founder Matt Galligan, who left the company two months before it was acquired, defended SimpleGeo post-acquisition on question-and-answer site Quora.
In response to the question "Why did SimpleGeo fail?," Galligan wrote: "As a standalone company, SimpleGeo may have fallen short of creating a crazy valuable business. But we chose, rather, to capitalize on an already amazing partnership with Urban Airship, team up, and build an even bigger opportunity that would be greater than the sum of its parts."
One week after the acquisition, SimpleGeo co-founder Joe Stump announced his departure.
For exhibit B, there's Ning, a "build your own social network" platform that sold in August to Glam Media in a deal reported to be around $200 million, mostly in stock. Sounds great -- but Ning had raised around $120 million from investors over the years. It's a break-even deal, at best.
"When Glam approached Ning about the possibility of an acquisition, the idea of combining to build a truly disruptive social lifestyle content company was exciting," Ning CEO Jason Rosenthal said in a statement to CNNMoney. "This opportunity to build something bigger and more impactful is what led us down the path of being acquired vs. staying independent."
The companies with the best takeover prospects, industry veterans say, are those with top-tier developers. Google, Facebook, Twitter and other giants are desperate for those employees and willing to pay lavishly to acquire the startups that have them. The industry calls it "acqhiring."
"Facebook and Google have really changed the way acquisitions work over the last year and half," said one entrepreneur who is frequently approached by companies looking for a suitor. "When acquiring these companies, [their approach is] 'all we really care about is the team.'"
Facebook, in particular, likes to buy startups, kill their products, and deploy their engineers on new projects. Facebooks's chief technical officer, Bret Taylor, came in the door that way, as did Facebook's head platform engineer, Carl Sjogreen, and dozens of other executives.
Some founders are perfectly happy with that outcome. Sparkbuy founder Dan Shapiro wrote recently about his decision to sell his six-month-old gadget shopping site to Google.
"Some people are wired for the 'billion dollars is cool' kind of risk that folks love to write articles about. I wasn't," he wrote. "At least I was in good company, though -- my new great-grand-boss, Larry, famously tried to sell Google for $1 million and failed."