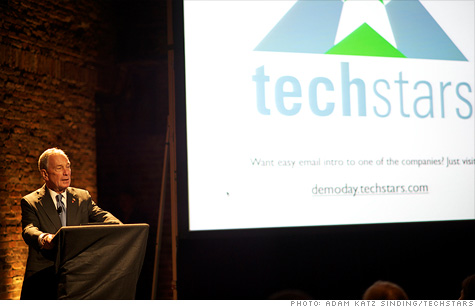 NYC Mayor Michael Bloomberg dropped by TechStars this week to talk up the city's rapidly growing startup scene.
NEW YORK (CNNMoney) -- It's showtime, and TechStars New York managing director David Tisch isn't wearing his normal uniform -- an oversized t-shirt bearing the name of one of the startups in his accelerator program.
Instead, he's opted for a Ralph Lauren oxford, a haircut and a fresh shave as he takes the stage for the program's second New York demo day. It's a stark contrast to TechStars New York's first demo session five months ago, a lower-key and more slapdash affair. This time around, there's rock-star trappings, right down to the choice of location: Manhattan's meatpacking district, a nightclub-filled celebrity hotspot.
Welcome to the growing intersection between the tech industry and show biz, where entrepreneurs become cult celebrities and no movie star's resume is compete without a few angel investments.
TechStars NY sits right on the fault line. The five-year-old incubator program, which began in Boulder, Colo., matches fledgling tech companies up with mentors, technical resources, office space and a bit of cash.
Building a company isn't the sexiest process -- imagine lots of marathon coding sessions and discussions of financial arcana like liquidation preferences -- but startups have caught the cultural zeitgeist. Hollywood is taking note.
ABC turned the "entrepreneurs pitch for investors" formula into the reality TV series Shark Tank, now in its third season. TechStars got its own TV treatment this fall with a Bloomberg TV series, which tracked the accelerator's debut New York class through their three-month mentorship. The final episode, which aired this week, ended the way all good reality shows do: with a sit-down cast reunion designed to recap the highlights and stir up fresh drama.
"The TechStars TV show on Bloomberg TV is our answer to Jersey Shore without the spray tans," New York City Mayor Michael Bloomberg quipped this week at TechStars demo day.
Is it about business, or entertainment? The lines are blurring. Pick up recent issues of GQ or New York magazine and you'll spot Tumblr founder David Karp modeling in a Uniqlo ad. A year ago, Gap (GPS, Fortune 500) launched an ad campaign featuring Foursquare founders Naveen Selvadurai and Dennis Crowley.
TechCrunch, which made its name by obsessively chronicling every major startup launch and funding deal in Silicon Valley, now runs an online series called TC Cribs. Host Jason Kincaid gives viewers an inside look at the bells-and-whistles of various startups' offices -- a play on MTV's "Cribs," where sports stars, actors and rappers show off their digs. The companies are playing to the cameras: Tumblr's crew invited Kincaid to walk their office bulldog, while the Meebo crew fixed "Meebotinis" and showed off their climbing wall.
The growing fascination with entrepreneurs has Hollywood's talent agencies on the lookout.
"We're interested in anything that's resonating culturally, and digital media and social media innovators are becoming cultural figures," says United Talent Agency founding partner Jeremy Zimmer. "Ten years ago it was rap. Ten years later it's Mark Zuckerberg."
The agency, whose client roster includes Angelina Jolie and Johnny Depp, recently created a team to scout out and represent innovators in the tech realm.
"We've really taken the agency through a comprehensive learning process about it, and we're opening our doors to the technologists and innovators to try to help them, as opposed to having it be intimidating or daunting or unavailable," Zimmer says.
It's not just the talent scouts paying attention -- Hollywood's actors are getting in on the action. The most notable example, Ashton Kutcher, has become a fixture in the tech circles. The actor took advantage of his latest gig on CBS's Two and a Half Men to promote a number of the companies he invests in by decorating his character's laptop with stickers featuring the logos of ventures he's backed.
"It's the new Beat Generation," says McAdory Lipscomb, Jr., a former Showtime executive who now works as a consultant and "pitch coach" for startups. "Before there were hippies. Now the Beat Generation has become the geek generation. It's the same logic -- they're going to change the world, and this time they're going to do it with technology instead of rock 'n roll and poetry."
Joseph Cohen, one of TechStars' demo day presenters, is part of the "better living through technology" set. He's the founder of Coursekit, a startup run by University of Pennsylvania dropouts who are building a messaging and community networking system for college classes.
"When it came to education, we were stuck in the dark ages," Cohen says. "So I dropped out of school to fix it."
After a marathon day of presentations and networking events, TechStars' leader Tisch and his flock unwounded in proper A-list style: They decamped to Manhattan night club Marquee.
Flashing a TechStars invite got the crowd past the red-rope line and disgruntled bouncers. For the rest of the night, one of the city's most exclusive nightclubs was filled with t-shirt-clad coders toasting the future with copious amounts of champagne.