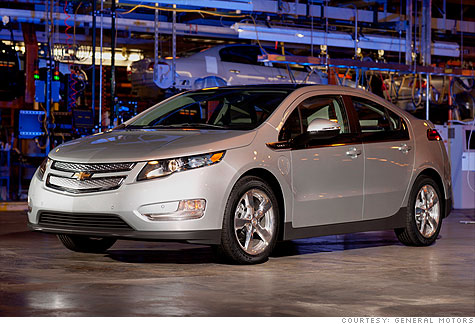 General Motors now says it will not be able to sell 10,000 Chevrolet Volts by the end of this year.
NEW YORK (CNNMoney) -- General Motors admitted Thursday that it won't sell the 10,000 Chevrolet Volts that it had hoped to sell in 2011, and said that it would buy the plug-in electric car back from any customer fearful about its safety.
Until now, GM (GM, Fortune 500) has stood by its goal of selling 10,000 Volts by the end of the year -- even as sales lagged. But when GM reported its November sales, an executive admitted that the goal is now out of reach.
"We're not at all disappointed," said Don Johnson, GM's vice president of sales operations. "We'll hit it early next year."
By the end of November, Chevrolet dealers had sold a total of 6,100 Volts. Of those, 1,100 were sold in November, about the same as the month before.
GM executives said on the company's conference call that Volt sales have been constrained not by lack of demand, but by lack of supply.
Volt sales had slowed to a trickle during the summer months as GM temporarily shut down the Detroit factory where the car is built. The month-long shut-down allowed GM to revamp the factory in order to boost the car's production volume.
That extra capacity was needed because, in addition to selling across the U.S., the Volt is also now going on sale in Europe and Asia. European sales will include a version called the Opel Ampera, which looks different from the Volt.
Up until last summer, the Volt had been for sale in only a few U.S. states.
The plant is now capable of producing 600 Volts a week, GM spokesman Rob Peterson said, or roughly 2,400 cars a month.
The National Highway Traffic Safety Administration's investigation into possible post-crash battery fires in Volts hasn't really hurt the car's sales, GM executives said.
If a customer is extremely worried about the car's safety, GM will buy the vehicle back from them, a company spokeswoman confirmed.
"If somebody were that concerned, we would put the concerns of the customer first," GM spokeswoman Michelle Bunker said.
Only about 230 Volt owners have called with questions about the investigation, and only 33 accepted GM's offer to supply them with a loaner vehicle while the matter is ongoing, said Alan Batey, vice president of Chevrolet sales and Service for the U.S.
The company also said Thursday that if NHTSA's investigation finds the need for a change to the Volt's battery, GM will make any necessary alterations.
Earlier today, Consumer Reports said that the Volt topped its "owner satisfaction" survey, with 93% of owners saying they would buy the car again.
The Volt is a plug-in car that can go about 40 miles on a charge, but also has a a gasoline engine to provide power for longer drives.