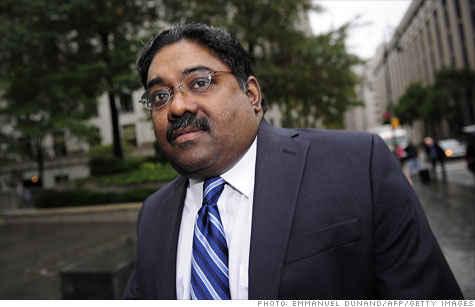 Raj Rajaratnam must report to prison on Monday.
NEW YORK (CNNMoney) -- Raj Rajaratnam is headed for the Big House.
The former hedge fund manager, convicted in May of insider trading, lost his bid Thursday to remain free pending his appeal.
As a result of the federal appeals court ruling, Rajaratnam is required to report on Monday to begin serving his 11-year prison term, the longest ever in an insider trading case.
It's expected that Rajaratnam will serve his sentence at the Federal Medical Center Devens in Massachusetts. Rajaratnam is a diabetic with "imminent kidney failure" and will need a transplant during his prison stay, according to the federal judge who sentenced him.
Rajaratnam's defense lawyer, Terence Lynam, declined to comment.
Rajaratnam managed $7 billion at his Galleon Group hedge fund before it shut down following his indictment in 2009. He has also been fined $93 million by the Securities and Exchange Commission in connection with the case, the largest fine against an individual in SEC history.
In June, a federal jury convicted three others in the Galleon insider trading case, including former trader Zvi Goffer and co-defendants Emanuel Goffer and Michael Kimelman.