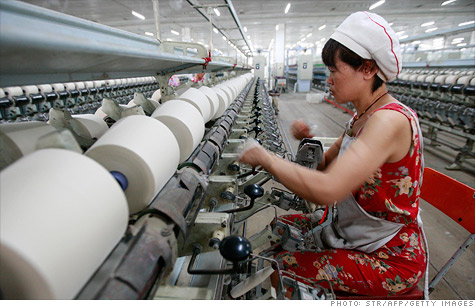 The Chinese manufacturing industry slowed down in November, slipping into negative territory.
NEW YORK (CNNMoney) -- Chinese manufacturing slowed down in November, its anemic growth slipping into a contraction, according to published reports on Thursday.
China's official PMI, the index that tracks purchasing managers' activity in the manufacturing industry, slid to 49 from 50.4 in October. This means that it slipped from a position of mild growth to a level of decline.
Capital Economics' chief Asia economist Mark Williams and China economist Qinwei Wang said a slowdown was forecast by a separate but similar report from HSBC and Markit last week. But the official Chinese report was a bit worse than expected.
"Most had thought that today's PMI would be weak, after last week's flash reading from HSBC and Market," said Williams and Wang, in a published report. "But the reality was even worse than expected."
The official PMI's decline was the weakest performance since February 2009, they said.
HSBC released its own reading on Chinese PMI that was slightly different, but told the same basic story of slowing growth. HSBC revised the report on Thursday.
The November HSBC manufacturing PMI was revised down slightly to 47.7 from the initial flash reading of 48, "pointing to a sharp deterioration of business conditions," according to the report.
The HSBC report, co-authored by Qu Hongbin, co-head of Asian economics research, and China economist Sun Junwei, said this is the lowest PMI level since March 2009 and the steepest monthly drop since August 2008.
The report highlighted the European sovereign debt crisis as a major impediment that is "set to increasingly weigh upon global exports growth."
"Looking ahead, growth is set to overtake inflation as Beijing's top policy concern, calling for more aggressive easing into the next quarter," said the HSBC economists.
In an effort to spur the economy, the People's Bank of China said Wednesday it would cut the amount of money that banks need to hold in reserve, freeing those funds to stimulate the Chinese economy.
The central bank said it will lower its reserve requirement ratio for financial institutions by half a percentage point. It was the first such cut in the ratio since 2008, and a change in course after the ratio was raised five times this year.