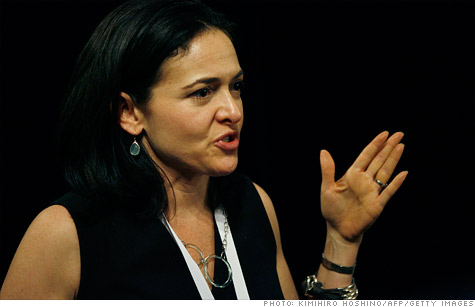 Facebook COO Sheryl Sandberg says Mark Zuckerberg has "been a leader" in online privacy.
NEW YORK (CNNMoney) -- Facebook routinely gets itself in hot water over privacy issues, a problem that led this week to a settlement with federal regulators and an agreement that Facebook will undergo regular audits of its compliance with its privacy promises.
But in Facebook COO Sheryl Sandberg's eyes, the company is a trailblazer. At a technology conference Thursday morning, she referred to Facebook as "the first innovator in privacy."
"Mark [Zuckerberg] is really a product visionary," she said during a presentation at Business Insider's Ignition conference in New York City. "The thing he's actually been a leader in is privacy."
Before Facebook, the Web was typically divided into two privacy realms: open and closed. For example, e-mail is completely private, while a blog is public.
Sandberg says Facebook pioneered the happy medium. "What Facebook actually came up with is privacy that you can control," she said. "If you want to have people share, you have to give them control over data."
Sandberg emphasized that every Facebook product rollout comes with a set of privacy controls.
But those controls -- which many users consider complicated and wonky -- have been a continued point of tension between the social network and its members. Few users adjust the default settings, and Facebook has steadily increased the amount of information that gets shared by default.
The social network has backtracked multiple times in the wake of user blow-ups.
In May 2010, Facebook CEO Mark Zuckerberg wrote an op-ed in the Washington Post publicly apologizing for the company's privacy mistakes. This week, following Facebook's settlement with the Federal Trade Commission over privacy violations, he penned another mea culpa note.
"Overall, I think we have a good history of providing transparency and control over who can see your information," Zuckerberg wrote in post to Facebook's blog. "That said, I'm the first to admit that we've made a bunch of mistakes."
The issue is freshly relevant thanks to Facebook's recently launched Ticker, a real-time broadcast of everything users do through Facebook's new wave of "social apps." Those apps broadcast what Facebook members are reading, listening to and doing around the Web.
With 800 million users, "not everyone understands [privacy controls]," Sandberg admitted.
But she thinks much of the backlash that inevitably follows Facebook changes stems from users' frustration at adjusting to new experiences. Sandberg cited Facebook's favorite example: The outcry that followed its 2006 introduction of the News Feed.
"News Feed was pushing information to you ... but at the time 10% of users were on groups protesting that," Sandberg said. "Fast forward to today, people not only accept them but demand them."
That's why Facebook keeps pushing the boundaries.
"Mark's biggest fear is the lack of innovation, so we have challenged users," Sandberg said. "Those changes have enabled us to grow to 800 million users plus."
And Facebook isn't backing down from its belief that most of your life should be shared with the people you choose to let in: "The ultimate vision is definitely not to control everything, but the ultimate vision is everything is better when it's social," Sandberg said.
In classic Facebook fashion, she realized a moment later how that sounded -- and backtracked.
"Not everything," is better shared, Sandberg corrected herself. Just most things.