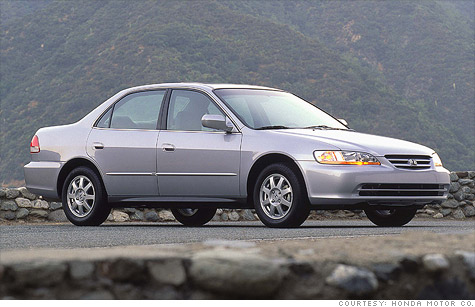 Honda expands recall of cars with risky airbags, which includes the 2002 Honda Accord.
NEW YORK (CNNMoney) -- Honda expanded its previously announced recall of vehicles with risky air bags to nearly 900,000 vehicles.
The Japanese automaker said on Thursday that it was expanding its earlier recall of Honda and Acura vehicles from model years 2001 through 2003 that were sold in the U.S.
Originally, Honda said that it needs to replace the driver's airbag inflator, which has a risk of deploying with too much pressure. The high-pressure airbags could cause the inflator casing to rupture, possibly resulting in injury or fatality, the automaker said.
Honda added 603,000 vehicles to the recall Thursday morning. The automaker said the additional cars need to be brought in to an authorized dealer for inspection, because they may contain faulty parts.
The automaker said it has determined that 640 questionable airbag parts were sold for installation in cars for collision repair or other reasons.
"Because Honda is unable to determine the specific vehicles that may have received the affected service parts through existing information, Honda will inspect an additional 603,000 vehicles and replace those parts as necessary," the automaker stated.
The expanded recall applies to certain cars of the following makes and model years: 2001 and 2002 Accord, 2001 to 2003 Civic, 2001 to 2003 Odyssey, 2002 and 2003 CR-V, 2003 Pilot, 2002 and 2003 Acura 3.2 TL and 2003 Acura 3.2 CL.