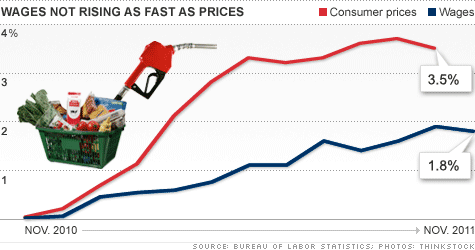 One big negative in an otherwise good jobs report? People are not making enough money to keep up with the rising cost of consumer goods.
NEW YORK (CNNMoney) -- The job market is showing some signs of life. And that's of course a good thing. It's just too bad that people still aren't making enough money to keep up with the fact that the cost of almost everything is getting more expensive.
Hourly wages fell in November. So much for consumers having more cash to spend this holiday season. And over the past 12 months, wages are up just 1.8%. Through October, the consumer price index rose 3.5%. That's a big problem.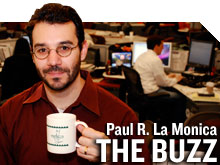 Even with a smaller percentage of people out of work, it's still a constant struggle for those with jobs to pay for must-have items like their house, food, gas and health care.
"Inflation is pretty low but it's higher than wage growth. So in real terms, people are losing income," said Brett Hammond, senior economist with TIAA-CREF in New York.
Why were wages down even though employers added more jobs than expected and the unemployment rate dipped to a nearly 3-year low?
If you dig into the jobs numbers, you'd see that a big chunk of the 120,000 net jobs added last month came from an industry that's known for paying pretty low wages: retail. That sector added 50,000 jobs in November.
"Those tend to be lower-paying jobs that may go away in January. So there is little pressure for employers to increase wages," Hammond said.
That is a key point. The job market is getting better. But it's such a sluggish ... stop me if you've heard this before ... low and slow BBQ recovery that there is no reason for companies to start giving out lavish raises.
Employers still hold all the cards. Many people who have been out of work for years and can get jobs are just happy to get back to work. They're not going to take a hard-line stance negotiating how much of a salary they will get.
As long as that's the case, many people will continue to be overstressed and underpaid.
"Employers are going to push even harder on the labor side. They will focus on productivity and efficiency gains and not big wage increases," said Doug Duncan, chief economist at Fannie Mae.
That may be good for corporate profits. But when will the average consumer benefit? Duncan worries that unless consumers start making more money, they can't continue to keep spending at the pace they have as of late.
The personal savings rate is now just 3.5% -- a far cry from the 8.3% rate it hit in May 2008 when consumers realized that they needed to be more frugal during the Great Recession.
"Wages are falling and the increase in spending seems to be coming out of savings. When you put those two things together, it's harder to figure out how there's going to be sustained growth in consumption," Duncan said.
For that reason, Duncan is forecasting a meager 1.4% increase in gross domestic product for the U.S. in 2012. That's far below estimates of many other economists.
And it goes without saying that if the economy grows at such a sluggish rate, it may feel like a recession for many -- even if it technically won't be a double-dip.
Still, some economists see hope. Stuart Hoffman, chief economist at PNC Financial Services in Pittsburgh, said that the monthly jobs numbers don't tell the whole story for wages.
For example, he said recent compensation increases for workers of Ford (F, Fortune 500), General Motors (GM, Fortune 500) and Chrysler, as part of the latest United Auto Workers pact, are not reflected in the government's job report because many of them were paid as one-time bonuses.
"The number of people working in the auto industry is not inconsequential," Hoffman notes. "Many of those workers got a nice increase that doesn't show up in the data."
That's a fair point. And it is a parlor game of sorts for economists and skeptical investors to look for holes and fundamental flaws with the government jobs figures. They are not perfect and don't always give the truest picture of the labor market.
But it's what we have. And even Hoffman, who said that Friday's report should hopefully put an end to the talk of another significant economic downturn along the lines of 2008, said you can't escape the fact that the size of the average American's paycheck needs to get bigger.
"I wouldn't be alarmed that wages dipped in one month. There is a bit of noise in the data," Hoffman said. "But wage growth is still very slow. And to me, that's the underlying trend."
Best of StockTwits and reader comment of the week! More bad news from BlackBerry maker Research in Motion (RIMM) had people tweeting like mad.
A_F: $RIMM's tablet won't sell well till the housing market turns around ... #roofshingle
Ouch. Maybe RIM can give unsold PlayBooks to First Solar. Or Solyndra.
mohannadaama: Only way for $RIMM co-CEOs and Board to make any money on their stocks or options is if they all resign immediately.
Double ouch. But yes, you'd have to think stock would go up if new management came in to try and save RIMM. Or if, at the very least, the company dumped the confusing co-CEO structure.
_vbp: There is no such thing as "value" for tech stocks. Single digit forward earnings multiples price in low chance of reinvention. $RIMM $NOK $MSFT
Funny that you mention Nokia (NOK) and Microsoft (MSFT, Fortune 500) since the two of them are now in smartphone operating system bed with each other ... and like RIMM, probably won't be able to catch Apple (AAPL, Fortune 500) or Google's (GOOG, Fortune 500) Android partners.
Finally, there was a lot of chatter on Twitter about another beaten down tech this week: Netflix (NFLX). Shares hit a new 52-week low the same day the Dow surged nearly 490 points on enthusiasm about the Fed's latest move to ease credit crunch concerns.
That prompted me to joke that "the Fed, ECB and other central banks set to unveil coordinated DVD liquidity swap line in order to save $NFLX."
A follower named OzanS, whose Twitter image is my favorite Sesame Street character (cookie!), had the following amusing retort which won him the reader comment of the week.
"that'll lead to massive inflation. we need to go back to the vhs standard!"
Too funny. Does the Q in QE stand for Qwikster?
The opinions expressed in this commentary are solely those of Paul R. La Monica. Other than Time Warner, the parent of CNNMoney, and Abbott Laboratories, La Monica does not own positions in any individual stocks.