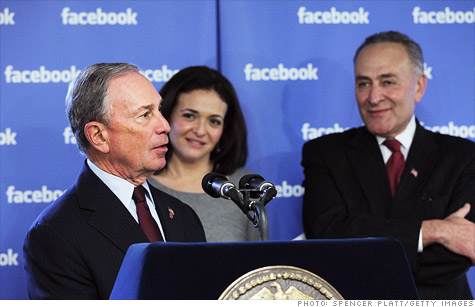 New York City Mayor Mike Bloomberg joined Facebook COO Sheryl Sandberg at an event announcing Facebook's expansion of its local office.
NEW YORK (CNNMoney) -- Some of Facebook's top technical talent will be setting up shop in the Big Apple.
Facebook COO Sheryl Sandberg was joined by New York City Mayor Michael Bloomberg on Friday at a press event to announce a significant expansion of Facebook's East Coast presence.
Facebook's New York office, which opened in 2007, has to date been a hub for its marketing and recruiting divisions. Now those groups will be joined by a cadre of Facebook's most prized employees: coders.
"We're expanding our efforts in New York so we can also do engineering as well," Sandberg said. She expects the move to foster additional job creation in the New York tech community.
Sandberg wouldn't say how many engineers Facebook plans to have in New York, but the office will be staffed with a combination of new hires and existing employees.
"We will hire as much talent as we can find," she said.
"This isn't a satellite office -- it's going to be a core piece of the engineering stack," Facebook Vice President of Engineering Mike Schroepfer said at the event. "We looked around and found the best place would be New York City."
It will be the social network's first engineering presence outside of the West Coast. Facebook, which has around 3,000 employees, currently has engineers in Seattle and at its headquarters office in Palo Alto, Calif.
Facebook's local expansion is a victory for Mayor Bloomberg, who has focused on fostering entrepreneurship in New York, especially in the tech industry.
A Facebook spokesman said New York City provided no tax breaks or other incentives to the company.
Senator Charles Schumer, who was also at the event, said it was "a red letter day" for New York, citing the impact on job creation in the city.
"The fact that a company like Facebook is locating engineers here says we've turned the corner," Schumer said.
In tribute, he offered up this pun: "New York is pleased to call Facebook a friend."