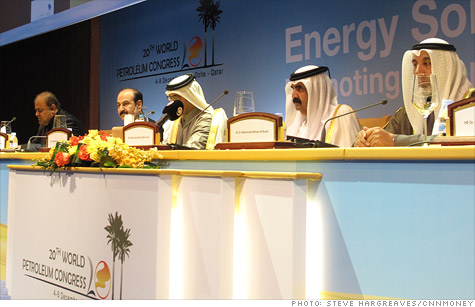 Iranian oil minister Rostam Qasemi, seated far left, says oil producers need improved access to technology.
DOHA, Qatar (CNNMoney) -- Undaunted by new sanctions on its energy sector, Iran's oil minister said Monday that improved access to technology for oil-producing countries is one of the best ways to ensure a constant supply of energy in the years ahead.
"This will lead to a win-win situation for the supply-and-demand future," said Rostam Qasemi, the government official in charge of Iran's vast oil industry.
Qasemi didn't specify what technologies he is looking for, where he is hoping to get them or how likely he is to get help.
It is unlikely, at least under the Tehran regime's current antagonistic stance toward the West.
It has become common in recent years for companies such as Exxon Mobil (XOM, Fortune 500), Royal Dutch Shell (RDSA), BP (BP), Chevron (CVX, Fortune 500) and others to assist state-run oil companies from Africa, Brazil and the Middle East with state-of-the art drilling and production techniques. This dynamic is not unique to the oil business -- it happens with many industries that are looking to gain access to markets or minerals.
The techniques or technologies could include more advanced drilling, the use of high-tech seismic imaging, or equipment to maintain pressure in older wells that increases oil output.
Sharing these technologies with other countries has given Big Oil access to the huge oil deposits in many of the world's oil-rich nations or large consumer markets in the developing world. It's also helping many of the state-run firms become world-class oil companies in their own right.
But Iran has largely been left out of this exchange, and its oil output has suffered as a result.
Last month, the Obama administration hit Iran with even tighter restrictions on what technologies can be sold to the country. The sanctions were a response to the dispute over Iran's nuclear program, which Iran says is for peaceful purposes but most Western nations say is intended to produce a weapon.
Sanctions targeting Iran's oil industry have been ratcheted up in recent years. Oil companies from places such as Japan and India that were once considering projects with the Iranian National Oil Company have put those plans on hold.
China, Japan and India are the largest buyers of Iranian crude, in that order, according to the U.S. Energy information Administration.
Most major oil companies would be eager to help Iran increase production, especially if it meant greater access to the country's fossil fuel wealth. Iran has the world's fourth-largest reserves of oil and its second-biggest deposit of natural gas, according to EIA.
But Western firms, which generally have the world's best oil-field technology, have largely been kept on the sidelines thanks to the sanctions.
The comments from Iran's oil minister came at the opening session of the World Petroleum Congress, a week-long gathering of industry executives and government officials held every three years, this time in the Persian Gulf nation of Qatar.
The session focused on ways the Middle East can help solve the world's energy challenge: dealing with the dependency on a dirty form of fuel that's becoming ever more expensive and will someday run out.
The Obama administration has taken a cautious approach to Iran's oil industry, hoping to strike the right balance between choking it to the point of forcing a regime change in the country but not tight enough to stop the flow of Iranian oil altogether.
The total loss of Iran's oil exports, currently running at over 2 million barrels a day, could cause oil prices to spike, something Obama is keen to avoid especially with an election on the horizon.