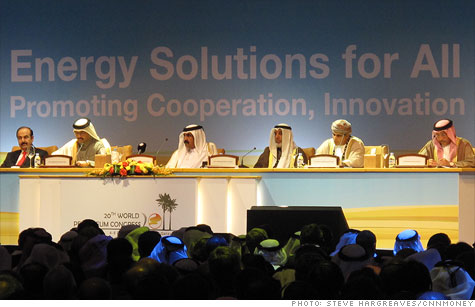 Representatives of Middle East oil producers attending the opening session of the World Petroleum Congress in Doha, Qatar.
DOHA, Qatar (CNNMoney) -- Representatives from a half-dozen OPEC nations acknowledged Monday what many U.S. politicians won't -- that global warming is indeed a problem.
The representatives attending the World Petroleum Congress -- a week-long gathering of oil industry executives and government officials held every three years -- outlined steps their countries are taking to move toward cleaner, renewable energy.
"Increasing climate effects are an unquestionable reality," said Sheikh Hamad bin Khalifa Al Thani, the Emir of Qatar. "Developing clean and renewable resources is a goal fully supported by oil and gas exporters."
The opening session of the conference focused on ways the Middle East can help solve the world's energy challenge: dealing with the dependency on a dirty form of fuel that's becoming ever more expensive and will someday run out.
Of course, increasing investment in oil production is a top priority.
The minister from Bahrain detailed several new projects his country is undertaking, and the Kuwaiti minister said his country plans on investing $180 billion over the next two decades in oil field development.
With that investment, Kuwait hopes to increase its oil output to 4 million barrels a day from the current 3 million barrels a day as early as 2020.
But oil ministers from Bahrain and the United Arab Emirates also talked about solar projects their nations are building. Those projects are still modest in size compared to projects in the United States, Spain or other places, but include plans for big expansion going forward.
The officials also touched on using more natural gas as a fuel to generate electricity, and ending some of the subsidies that allow consumers in the Middle East to buy gasoline and electricity for a fraction of its true cost.
Many countries in the Middle East simply burn off the natural gas that comes up from oil wells and use the oil itself to generate electricity.
This wasn't a problem when oil was cheap and their own consumption was low. But as these countries get richer, they are using more and more gasoline and electricity themselves, putting in jeopardy their ability to export oil and generate government revenue.
Some reports say Saudi Arabia will consume nearly all its current oil production in a couple of decades unless it takes steps to become more efficient and generate electricity from other sources -- a prospect the Saudis are exploring.
"We simply have too much waste in the Middle East," said Mohammed Bin Hamad Al Rumhi, the minister of oil and gas in Oman. "Our ability to subsidize our consumer only aggravates this waste."