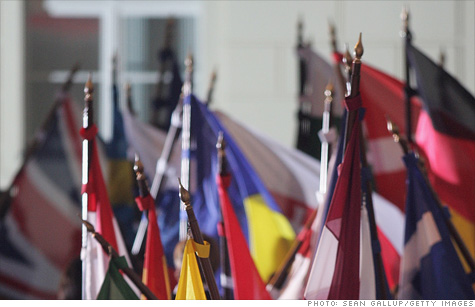 S&P has issued a stern warning to eurozone leaders to find a decisive solution to the debt crisis or face possible downgrades.
NEW YORK (CNNMoney) -- Standard and Poor's timing for its downgrade warning to the eurozone is no coincidence.
European leaders are meeting this week to hammer out a solution to the debt crisis and the ratings agency says they must act decisively or face the consequences of multiple ratings downgrades across the eurozone.
"It's time to turn this around," said Moritz Kraemer, S&P's managing director of sovereign ratings, highlighting the "great importance" of the summit of government leaders from all 27 member European Union nations on Thursday and Friday in Brussels.
Late Monday, the S&P issued a warning to the eurozone, placing 15 of the 17 euro area nations on review for a possible downgrade.
One of the key reasons behind the S&P's move is to try to put an end to the ongoing political brinkmanship over resolving Europe's debt crisis, said Kraemer during a conference call Tuesday.
"There have been a series of summits that have ended in prolonged public disputes among policymakers about the right diagnoses and the right approach," he said. "That piecemeal and hesitant policy reaction has so far not been able to stem the crisis let alone reverse it or return investor confidence."
In fact, the political deadlock has been the lead culprit behind the investor reluctance to purchase European government bonds, leading to a surge in yields across the eurozone, said Kraemer, who also drew parallels to the United States' debt ceiling debacle earlier this summer that led S&P to downgrade the U.S. credit rating.
But he added that Europe's challenge is "much larger" than what U.S. lawmakers are facing because each eurozone country is governed separately as opposed to the United States.
Even non-eurozone countries could become obstacles since treaty modifications could involve all 27 EU members.
On Tuesday, U.K. prime minister David Cameron threatened to veto any changes to treaties that govern the European Union if they don't include "safeguards" for Britain.
Cameron's resistance came a day after French President Nicolas Sarkozy and German Chancellor Angela Merkel agreed on a new fiscal pact that they say will prevent another debt crisis but would involve amending or rewriting the EU treaties.
This week's summit provides European leaders with a "timely opportunity to break the pattern and address [the crisis] in a more comprehensive and robust way than ever before," said Kraemer. If they're unsuccessful, the overall situation will only deteriorate, he noted.
S&P officials avoided giving clear advice on what kind of policy steps European leaders should take, but they did say they would measure the effectiveness by analyzing how those steps will support and strengthen market confidence.
We've been here before. Time and time again, European leaders have touted one solution or another, with investors showing initial enthusiasm that something is getting done. That is, until those solutions fail to translate into anything concrete.
"The devil is always in the detail in terms of implementation, and agreements seem to slow down or fall flat," noted Kraemer.
S&P will keep close tabs on this week's summit and try to complete its review of the eurozone countries that are facing possible downgrades sooner rather than later, said Kraemer, though the agency typically gives itself 90 days to either cut or affirm ratings of those on "credit watch."
Kraemer said that AAA-rated Germany, Austria, Belgium, Finland, Luxembourg and the Netherlands and could have ratings lowered by by one notch. France, which also still boasts a AAA-rating, and other eurozone countries under review, including Italy and Spain, could face downgrades by up to two notches.
The European Financial Stability Facility, the government bailout fund that is backed by the AAA-rated eurozone nations and was also put on review for a downgrade early Tuesday, will take a hit if other AAA-rated countries are stripped of their pristine rating.
And banks in Europe wouldn't be far behind, since sovereign and commercial banks ratings are "interlinked," said Kraemer.
Bank stocks have already had a rough year because of worries over their exposure to sovereign debt. Shares of Credit Agricole, Societe Generale and BNP Paribas are all down between 31% to 51% from the start of the year.
U.S. banks haven't fared much better, with shares of JPMorgan Chase (JPM, Fortune 500), Bank of America (BAC, Fortune 500), Goldman Sachs (GS, Fortune 500) and Citigroup (C, Fortune 500) down between 22% to 56% this year.